NBC Insider Exclusive
Create a free profile to get unlimited access to exclusive show news, updates, and more!
Sign Up For Free to View
Sheryl Crow and The Roots Have Some Fun with "All I Wanna Do" in the Return of "Classroom Instruments"
2023 Rock Hall of Famer Sheryl Crow joined Jimmy Fallon and The Roots to perform "All I Wanna Do" like you've never heard the hit song before. 
Musician Sheryl Crow was inducted into the Rock & Roll Hall of Fame in a November 2023 ceremony that found Crow kicking things off with a performance alongside rising singer-songwriter Olivia Rodrigo. To mark the well-deserved career honor, Crow visited The Tonight Show Starring Jimmy Fallon to talk about playing "If It Makes You Happy" with Rodrigo ("she's the real deal," Crow told Jimmy Fallon, how it feels to be a Hall of Famer, and to perform her new song, "Alarm Clock."
Crow also joined Jimmy Fallon and the Roots for the first installment of "Classroom Instruments" since The Tonight Show returned from a five-month absence in October 2023. Because what better way to celebrate Crow's trailblazing musical legacy than a fun spin on one of her most joyful hits?
RELATED: Check Out Who's Visiting The Tonight Show with Jimmy Fallon This Week 
Crow was inducted with fellow honorees Kate Bush, Willie Nelson, The Spinners, Rage Against the Machine, and Missy Elliott. 
Sheryl Crow and The Roots perform "All I Wanna Do" on classroom instruments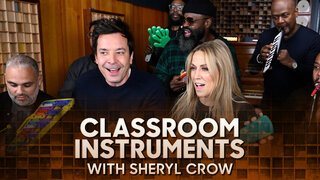 Fallon and his house band, The Roots, couldn't let Sheryl Crow leave 30 Rock without grabbing the toy ukelele, melodica, and xylophone and going to town on a classroom instruments cover of "All I Wanna Do," Crow's hit from Tuesday Night Music Club. The debut album was released 30 years ago (!!) in August, 1993.
Watch their jangly-fun performance above—and if you've got a kazoo at home, feel free to hum along until the sun comes up over Santa Monica Boulevard. 
What are the lyrics to "All I Wanna Do?"
[Spoken]
Hit it
This ain't no disco
It ain't no country club either
This is L.A.
[Singing]
"All I wanna do is have a little fun before I die"
Says the man next to me out of nowhere
It's apropos of nothing, he says his name is William
I'm sure he's Bill or Billy or Mac or Buddy
And he's plain ugly to me
And I wonder if he's ever had a day of fun in his whole life
We are drinking beer at noon on Tuesday
In a bar that faces a giant car wash
The good people of the world
Are washing their cars on their lunch break
Hosing and scrubbing as best they can in skirts in suits
They drive their shiny Datsuns and Buicks
Back to the phone company, the record store too
Well, they're nothing like Billy and me
'Cause all I wanna do is have some fun
I got a feeling I'm not the only one
All I wanna do is have some fun
I got a feeling I'm not the only one
All I wanna do is have some fun
Until the sun comes up over Santa Monica Boulevard
I like a good beer buzz early in the mornin'
And Billy likes to peel the labels from his bottles of Bud
He shreds them on the bar
Then he lights every match in an oversized pack
Letting each one burn down to his thick fingers
Before blowing and cursing them out
He's watching the bottles of Bud as they spin on the floor
And a happy couple enters the bar
Dangerously close to one another
The bartender looks up from his want ads
But all I wanna do is have some fun
I got a feeling I'm not the only one
All I wanna do is have some fun
I got a feeling I'm not the only one
All I wanna do is have some fun
Until the sun comes up over Santa Monica Boulevard
Otherwise the bar is ours
The day and the night and the car wash too
The matches and the Buds and the clean and dirty cars
The sun and the moon
But all I wanna do is have some fun
I got a feeling I'm not the only one
All I wanna do is have some fun
I got a feeling I'm not the only one
All I wanna do is have some fun
I got a feeling, the party has just begun
All I wanna do is have some fun
I won't tell you that you're the only one
All I wanna do is have some fun
Until the sun comes up over Santa Monica Boulevard
Until the sun comes up over Santa Monica Boulevard