NBC Insider Exclusive
Create a free profile to get unlimited access to exclusive show news, updates, and more!
Sign Up For Free to View
Anthony Mackie Wants a Rematch With Samoa Joe After His Twisted Metal Smackdown
Will John Doe get the best of Sweet Tooth in Season 2? Not if Samoa Joe has anything to say about it!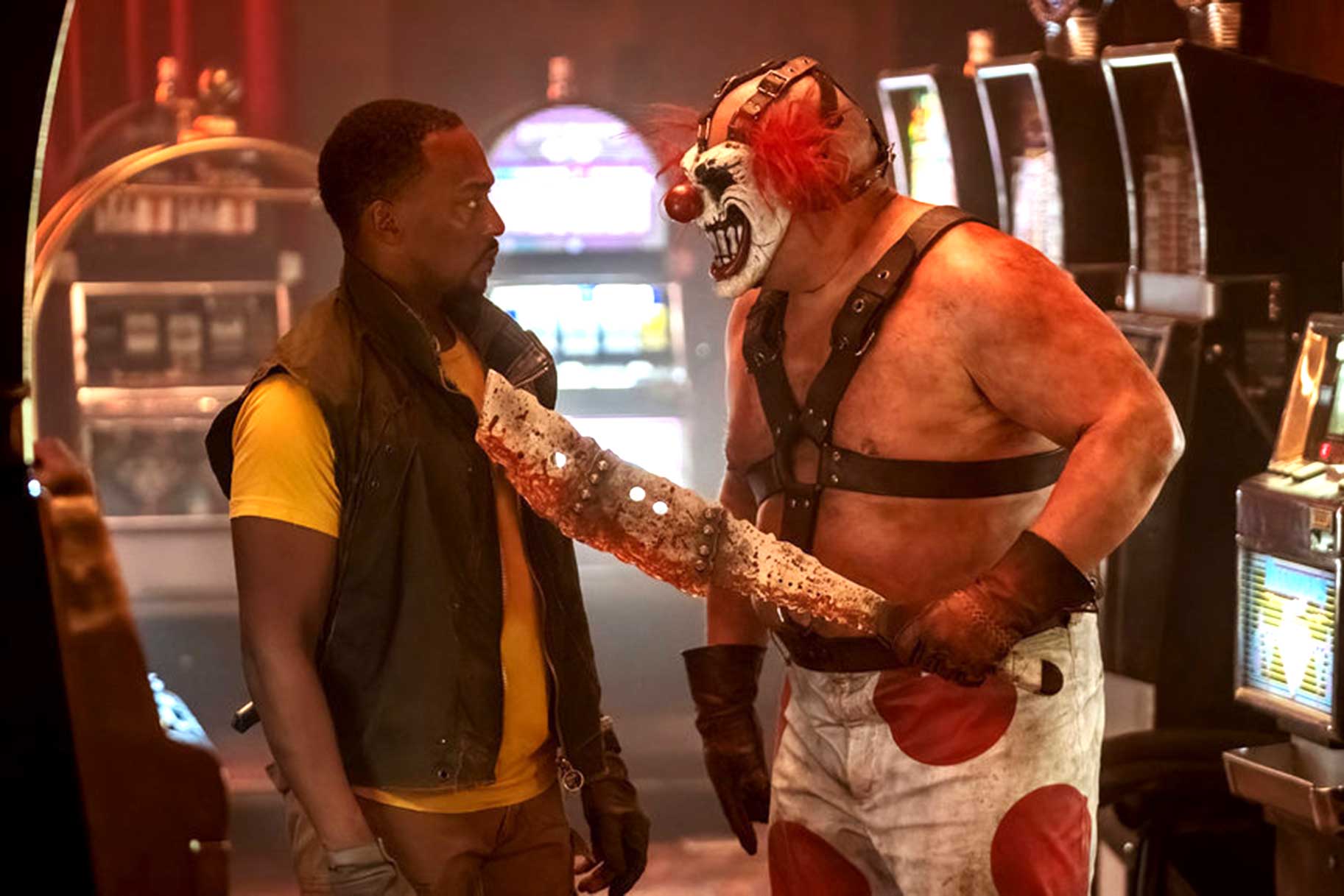 Not many people can say they've bested a leading member of the Avengers in combat, especially when the superhero getting their butt handed to them is none other than Captain America.
For professional wrestler turned actor Nuufolau Joel Seanoa — better known by the monicker "Samoa Joe" — stepping into the hulking shoes of the sociopathic Sweet Tooth and beating up Anthony Mackie on the set of Peacock's Twisted Metal series (all 10 episodes premiere this Thursday) was one of the crowning moments of his career.
RELATED: Twisted Metal: Why Anthony Mackie, Stephanie Beatriz & Thomas Haden Church Signed On For Wild Peacock Series
"It's incredible. It is really an incredible feeling," he told NBC Insider over Zoom ahead of the SAG-AFTRA strike, adding that it netted him "a lot of street cred with the kids. Really good around the neighborhood. Nobody's side-eyeing [me] anymore when I walk around the block and stuff. So it's a lot of fun, man. It worked out really well for me."
Anthony Mackie wants a rematch with Samoa Joe's Sweet Tooth
Mackie — who plays motor-mouthed delivery man John Doe — is already raring for a rematch, declaring that if he and Sweet Tooth throw down again in a potential second season, "I'm not losing." You might say he could do this all day.
The man behind the clown mask, on the other hand, isn't ready to give up the heavyweight title just yet. "You know, we all want a lot of things in this world," he said. "We all hope and wish for a lot of things, but I don't know, man. We'll see how he fares."
Despite losing the casino battle shown in the video above, Mackie has nothing but praise for his co-star, describing Samoa Joe as "a larger-than-life figure," who brought something indescribably unique to the project.
"Once he stepped on the set, the show kind of came together. Just seeing him in that ice cream truck was the eeriest experience," he said, referencing Sweet Tooth's iconic ride of choice from the PlayStation franchise upon which the series is based. In particular, he points to a chase sequence in Episode 2, where John and car thief Quiet (Stephanie Beatriz) venture into the clown's Lost Vegas turf.
"We go through the Vegas sign right there, and he's driving from about 300 yards away and all you see is the clown head across the dunes. You don't even see the truck, you just see the clown head, and it was the eeriest day on set seeing him come out of that truck and beat the sh** out of both of us."
All 10 episodes of Twisted Metal hit Peacock this Thursday — July 27.
Want more original Peacock content in the meantime? Be sure to check out Bel-Air, Killing It, A Friend of the Family, Poker Face, Joe vs. Carole, Mrs. Davis, MacGruber, and Based on a True Story.
**These interviews were conducted before the actors' strike.**