NBC Insider Exclusive
Create a free profile to get unlimited access to exclusive show news, updates, and more!
Sign Up For Free to View
Quantum Leap Previews First Season 2 Opening Footage at SDCC
Dr. Ben Song finds himself in peril yet again in the opening moments of Quantum Leap Season 2.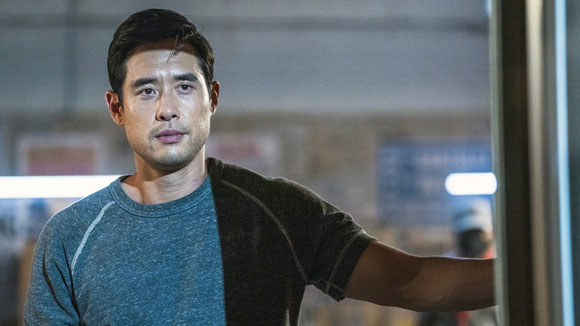 The first season of NBC's Quantum Leap saw our hero Dr. Ben Song not return from his latest Leap, trapping him away from the ones he loved and dropping him into yet another screwy timeline.
As fans eagerly await details on Season 2, Quantum Leap brought new footage to San Diego Comic-Con to share with fans at the Saturday screening of the Season 1 finale. In front of a packed crowd, NBC shared the first 8 minutes of the Season 2 premiere and treated fans to another screening of the Season 1 finale.
But we all know why you're really here: You want to learn about this new footage! While the scene was only available for viewing by fans at the SDCC screening, NBC Insider was there to soak it all up and report back on what we learned.
RELATED: Quantum Leap's Multiversal SDCC Activation Leaps You Into Law & Order, The Voice & More
Ben awakens — distressed and calling out to his friends — in the body of a man named "Perez" onboard a cargo plane in 1978. Upon entering the main cargo hold, he finds two men (presumably brothers) arguing over a shipping container they'd just picked up from Germany.
"You're just going to gloss over the fact that the Nazis 'collected a lot of artifacts,'" one of the men says to the other, outraged. "I'm just saying this could be some sort of deeply supernatural, Level 10 occult, ultra-powerful ancient artifact!"
His friend's theory? Aliens.
The group's leader, Bailey, has enough and tells them to shut up. His only worry is that they make their delivery and get out of the military "hellscape" they've found themselves in. A woman, hearing the group's bickering, makes her way out of the cockpit to put an end to it. Once they complete this mission, she says, they'll be free and clear and can go about their lives.
"All we have to do for the next couple of hours is nothing," she says. "Literally stay out of our own way –" And then she's cut off by an alarm indicating SAMs (Surface to Air Missiles) are headed their way. 
The plane is hit and as its plunges from the sky with the team onboard, Ben reasons that he can save the plane! It must be why he's there!
No such luck. He awakens after the crash, cut and bruised to all hell with the explosion still ringing in his ears. Bailey finds him and together they help free the brothers after one of them is stuck under a wheel from the crash. Once freed, he begins bleeding profusely. Ben's assigned to head into the cargo hold (which is, of course, still on fire) to find the med kit.
As he picks his way through the ruined cargo hold, dodging flames and sparks, Ben starts trying to speak to Addison in the hopes of a holographic assist. But he's really not confident anyone is listening.
"As far as I can tell, I'm in the middle of nowhere," he says.
Just as he finds the medkit, the woman from earlier calls out to Ben for help in getting the crate out of the (on-fire) plane; this crate, she says, is her mission.
"It is the most important thing they could trust me with, I am not going to fail," she yells.
Another explosion gets Ben in gear and he helps her drag the crate from the plane, just in time for the wing to break off and send the whole plane up in a fireball.
Keep an eye on NBC Insider for all the latest Quantum Leap news.