NBC Insider Exclusive
Create a free profile to get unlimited access to exclusive show news, updates, and more!
Sign Up For Free to View
Here Is When Quantum Leap Will Premiere This Fall on NBC (UPDATED)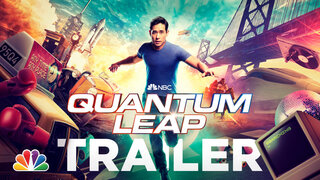 UPDATE: Wednesday, June 29 at 2:30 p.m. ET— Quantum Leap is coming to NBC, and you won't have to wait long for the premiere. 
On June 29, NBC announced the premiere date of its new Quantum Leap, which centers on a new character, Dr. Ben Song (Raymond Lee), set 30 years after the iconic Dr. Sam Beckett  disappears into the Quantum Leap. Set your alarms for September, sci-fi, fans, because we are about to have some body-hopping fun. Details below. 
When will Quantum Leap premiere on NBC this fall?
Quantum Leap will premiere on NBC Monday, September 19 at 10/9c on NBC, directly following The Voice. Episodes will be available to stream next day on Peacock. 
ORIGINAL STORY: 
Fans, rejoice: The highly-anticipated sequel series to Quantum Leap will be airing on NBC this fall! The original show ran from 1989 to 1993 and told the story of Sam Beckett, a scientist who finds himself trapped in time after a botched experiment, forcing him to leap from body to body. The new Quantum Leap sequel takes place 30 years after Dr. Sam Beckett disappears into the Quantum Leap accelerator and centers around a new character, Dr. Ben Song, played by Raymond Lee. 
Dr. Song has ultimately been tasked with leading a new team to uncover the mysteries surrounding the original experiment and missing scientist Dr. Sam Beckett. The series will also star Ernie Hudson, Caitlin Bassett, Nanrisa Lee, and Mason Alexander Park. 
Fans of the original Quantum Leap are in for a few surprises, including the return of some original characters and the continuation of the most popular plot points. Hudson, known for his role in the HBO series Oz, plays Herbert "Magic" Williams, a character introduced in Season 3 of the original show. As a Vietnam War veteran, Magic utilizes his strategic military and political negotiation tactics to keep the Quantum Leap Project moving forward. 
The new series also reimagines Admiral Al Calavicci as Addison, another important member of the Quantum Leap team who maintains communication with anyone on an active time-travel mission. Star Trek: Picard actor Nanrisa Lee is slated to play Jenn, the head of security for the highly-classified project, and Cowboy Bebop  actor Mason Alexander Park is taking on the role of Ian, the lead architect for Quantum Leap's A.I. technology. 
We can expect Quantum Leap to air as part of NBC's fall 2022 lineup. Get excited.