NBC Insider Exclusive
Create a free profile to get unlimited access to exclusive show news, updates, and more!
Sign Up For Free to View
This Is Why the Hilarious Orlando Leyba Looks So Familiar
"You're a fine wine and you're at the top of your game," one AGT Judge told the intoxicatingly funny comedian, "I'm a huge fan."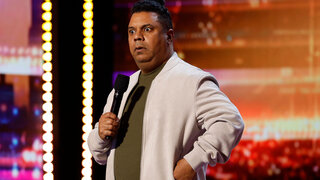 Orlando Leyba is a seriously funny. 
America's Got Talent esteemed Judges — Simon Cowell, Sofia Vergara, Heidi Klum, and Howie Mandel — said as much during the show's premiere on Tuesday, May 30 at 8/7c on NBC.
Who Is Orlando Leyba?
Orlando "Lando" Libya, 45, is a standup comedian from Miami. He got into performing funny business after his wife gave him a gift course in improvisational acting. He then discovered his gift for comic storytelling and finding humor in everyday events in his life.
RELATED: Simon Cowell Says Niall Horan Becoming a Coach on The Voice Is a "Weird, Full Circle-y Thing"
He told the Judges that he's been doing stand-up full-time for about 13 years.
Why Orlando Leyba Looks So Familiar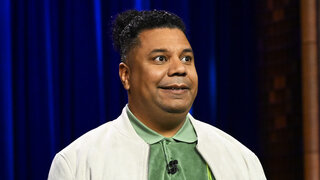 In February, Leyba was even on The Tonight Show, where he's performed a number of times. His bit focused on Yellowstone, the Kevin Costner series and the actual National Park, which he recalled visiting for his friend's wedding. A self-described "city guy," he talked about seeing bison ("bougie cows") and Old Faithful.
Leyba used the same material for his AGT Act. 
Orlando Leyba's Career
Leyba has become a regular at comedy festivals and clubs across the U.S. and Canada, per his bio. He's been on NBC's Bring the Funny and even had his own standup special, Orlando Leyba: Adorable. He also played Wabo in the animated kids film Luis and the Aliens.
Leyba is no stranger to competition: He was also a finalist in NBC's Stand Up Showcase.
How AGT Judges Reacted to Orlando Leyba 
Simon Cowell: "You are just naturally funny," said Cowell. "It felt like you were telling us something that really happened." Then he asked if Leyba if he does standup full time (he does) and what he did previously. Leyba seized the chance to quip: "I was a satellite engineer for another network that is not this network."
Sofia Vergara: "I am so glad that your wife helped you start your career," she said. "You deserve to be on a stage."
Howie Mandel: "From the second you walked out on this stage, you were winning," he said and then learned that Leyba has been at this for 13 years. "You're a fine wine and you're at the top of your game. I'm a huge fan."
Heidi Klum: "I love you, too. I love your top bun. I love your face. It's super cute," she said. "You made us laugh and that's what a comedian is supposed to do. So well done."
All four gave him a "Yes" vote, which enabled the Act to advance. A unanimous four Yeses – that's no joke.