NBC Insider Exclusive
Create a free profile to get unlimited access to exclusive show news, updates, and more!
Sign Up For Free to View
The Carol Burnett Show to Receive the Heritage Award at the 2023 TCA Awards
This is one of the most prestigious honors bestowed by the Television Critics Association.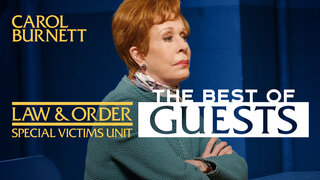 The incredible Carol Burnett turned 90 in 2023. In honor of her prolific career in entertainment, NBC hosted Carol Burnett: 90 Years of Laughter + Love, a retrospective special that celebrated one of America's favorite talents. 
Where to watch Carol Burnett's 90th birthday special
You can stream Carol Burnett: 90 Years of Laughter + Love on Peacock. The special will repeat air on Wednesday, August 23 at 9/8c on NBC. 
The Carol Burnett Show wins the Heritage Award from the Television Critics Association
Arguably one of Burnett's crowning achievements from her decades-plus career, the long-running Carol Burnett Show will be given the Heritage Award by the Television Critics Association during its annual awards show, which  honors the best TV of the year and the best in the business. The Heritage Award is one of the most prestigious honors from the TCAs, given to one long-standing program that has culturally and socially impacted society. 
What is Carol Burnett's 90th birthday special on NBC?
"It's hard to imagine anyone in television more beloved than Carol Burnett," said Jen Neal, executive vice president of live events and specials at NBCUniversal Television and Streaming, in a press release. "To throw this wonderful birthday celebration is clearly our honor, and we can't wait to share the love that we all have for her with all her adoring fans."
It's only right that we looked back at Burnett's groundbreaking career and contributions to the film, TV, and theatre industries with the help of an impressive roster of special guests. 
"This special is going to be the best party ever," executive producer Mark Bracco said. "It will be an evening of music, comedy, and dozens of big stars paying tribute to the one, the only, Carol Burnett. We cannot wait for everyone at home to celebrate right along with us."
"It was fantastic," Carol Burnett told NBC's Mark Barger about the special. "As I have said before, I didn't want a birthday party with a cake and balloons and confetti. And I didn't want it to be a roast. I wanted it to be kind of an old time variety show with live entertainment. We had a 90-piece orchestra. We had funny clips and wonderful guests who came on and were funny."
Which celebrities appeared on Carol Burnett's 90th birthday special?
The show featured an all-star lineup, including live musical performances from Bernadette Peters, Billy Porter, Jane Lynch, Katy Perry, Kristin Chenoweth, and others.
Other special guest stars on hand to honor Burnett included Aileen Quinn, Allison Janney, Amy Adams, Amy Poehler, Bill Hader, Cher, Ellen DeGeneres, Julie Andrews, Kristen Wiig, Laura Dern, Lily Tomlin, Lisa Kudrow, Marisa Tomei, Sofia Vergara, Steve Carell, Taraji P. Henson, and Tracee Ellis Ross. 
"I was thrilled to have my chum Julie Andrews [there]," Burnett told Barger. "She flew out and she was with me the whole evening by my side. We've got a 62-year friendship! That was lovely. And so many wonderful performers: Bernadette Peters and Kristin Chenoweth and Billy Porter, Jane Lynch, Katy Perry. Kristen Wiig and Allison Janney and Laura Dern were hysterical when they got up to pay tribute. I don't want to spoil it. I'm not gonna give it away. But they were funny."
On the subject of all these folks being inspired by Burnett, she tells Barger, "It's very flattering, but my feeling is if I had never been born, they'd still be doing what they're doing. But I'm thrilled that they're so kind. Their words and everything. But as I say, if I hadn't been around, they'd still be doing what they're doing."
What did fans see on Carol Burnett's 90th birthday special?
In addition to the many celebrity guests, musical tributes recreated some of Burnett's most iconic performances, including: "Old Friends," from the Stephen Sondheim musical Merrily We Roll Along, as a tribute to her long friendship with Andrews (with whom Burnett performed it, alongside Christine Baranski, in 2017); and "Only an Octave Apart," saluting the moment that she joined opera legend Beverly Sills on stage in the 1976 television special Sills and Burnett at The Met. 
"I was pretty gobsmacked by the whole thing," Burnett says about the special. "It was almost surreal at times. I was thrilled with some of the videos. I can't even quote all of them, but it was a thrill to see."
It also featured some of Burnett's best-known songs, including ones from the movie Annie (she played the dastardly Miss Hannigan) and The Carol Burnett Show theme song "I'm So Glad We Had This Time Together."
"I can't wrap my head around it," Burnett said about the special celebrating her decade-spanning career. "I keep feeling like I'm 11…I feel very fortunate, and I've said this before: I'm happy. I've got all my parts. My hips, I've got my knees, my brain. So far, so good."