NBC Insider Exclusive
Create a free profile to get unlimited access to exclusive show news, updates, and more!
Sign Up For Free to View
Genie Release Date and Trailer Debut For Melissa McCarthy-Led Holiday Movie On Peacock
Melissa McCarthy and Paapa Essiedu star in the new Peacock original movie Genie.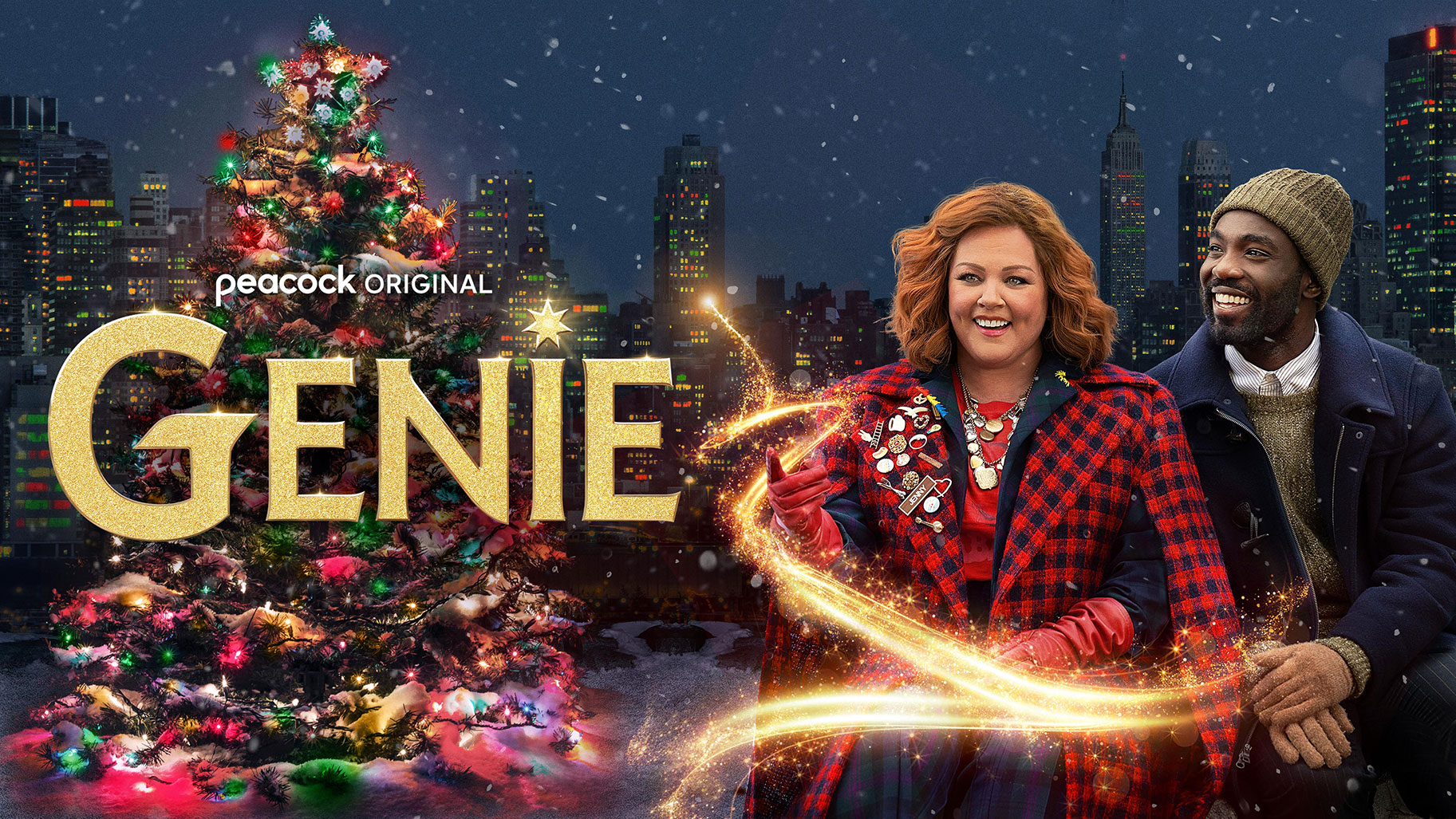 The holiday season is about to get a little more magical thanks to the power of love, family, friendship… and an ancient being with actual powers when Peacock premieres the new original movie Genie on November 22, 2023. 
The film comes from Oscar-nominated screenwriter Richard Curtis, best known for hits like Love Actually, Four Weddings and a Funeral, and Notting Hill. Genie is a new holiday fairytale about a man who loses everything important to him only to get a once-in-a-lifetime chance to make it all right again just in time for Christmas. 
RELATED: Universal Orlando Resort Unveils Massive Holiday Celebration Plans For 2023
Oscar nominee Melissa McCarthy plays Flora, a genie trapped for more than 2,000 years inside an antique jewelry box due to a misunderstanding with a sorcerer way back in 77 B.C. (it happens to the best of us). When the audience finds her in Genie, she's spent centuries living in the box, occasionally granting wishes to greedy men who want nothing more than money, women, and power. However, after an accidental summoning from Bernard Bottle (Emmy nominee Paapa Essiedu) she gets a chance to do some good work for a worthy guy … maybe. 
Bernard's work ethic made him lose sight of the most important things in life, namely his marriage to his wife Julie (Tony nominee Denée Benton) and their daughter, Eve (Jordyn Mcintosh). As the first trailer for the upcoming Peacock original film shows, Bernard meets Flora after he's missed Eve's birthday, which happens to fall 12 days before Christmas. That leads to a trial separation with his wife and even him getting fired by his cruel boss, played the Tony-winning star of The Traitors, Alan Cumming!
Alone and heartbroken, Bernard turns to an antique jewelry box that happens to hold the key to a new friend and a massive holiday adventure that just might be his only shot at making amends for his mistakes and bringing his family back together in time for Christmas… provided he can get his new genie acclimated with modern times, that is. 
Joining the duo on their holiday adventure is an all-star cast that includes popular faces like Marc Maron, Jordyn McIntosh, Luis Guzmán, Tate Ellington, LaChanze, and more. Curtis wrote the film based on his 1991 teleplay Bernard and the Genie and handed the directing reigns over to Sam Boyd, known for In A Relationship and for creating Love Life. 
The movie comes from Universal and Working Title, produced by Working Title's Tim Bevan and Eric Fellner, by Riva Marker and Richard Curtis. It is executive produced by Melissa McCarthy, Caroline Jaczko, Nicole King, Stacy O'Neil, Alexandra Loewy, and Sarah-Jane Robinson. 
Gather the family around for some holiday fun starting on November 22, 2023 when Genie premieres exclusively on Peacock.