NBC Insider Exclusive
Create a free profile to get unlimited access to exclusive show news, updates, and more!
Sign Up For Free to View
Kelly Clarkson & Blake Shelton Sound Amazing Singing His Song "Lonely Tonight"
We bet they felt anything but lonely with that eager crowd! Watch episodes of The Voice on NBC.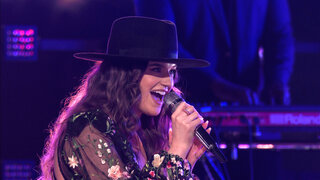 Two years ago, Blake Shelton brought on a very special guest during one of his concerts for a surprise duet for one of his hit songs. 
The performance (which was captured on video by fans) took place in Denver, Colorado during Shelton's "Friends & Heroes" tour. While Shelton starting singing his song "Lonely Tonight", the one and only Kelly Clarkson joined him onstage as the crowd went wild. 
During their soulful rendition, Shelton's signature twang and Clarkson's powerhouse vocals blended together perfectly. "Kelly freakin' Clarkson, Denver!" Shelton exclaimed when the performance was over, giving a much deserved nod to his fellow The Voice Coach. 
What to know about "Lonely Tonight" by Blake Shelton
"Lonely Tonight" is a 2014 song released off of Shelton's album "Bringing Back the Sunshine". It was originally a duet recorded with Pistol Annies member Ashley Monroe and received a Grammy Nomination for Best Country Duo/Group Performance. 
The lyrics to "Lonely Tonight" by Blake Shelton
I never thought you'd pick up the phone
It's Friday night you should be out on the town
Didn't think you'd be sitting at home all alone like me
Nothing on TV, nothing to do
Nothing to keep my mind off you and me
And the way it was
Are you thinking 'bout it now because
I could be there in five
One more one last time
We don't have to be lonely tonight
Need you, want you, I'm right here
We don't have to be lonely tonight
I know we shouldn't, but I don't care
I don't wanna be right, I don't wanna be strong
I just wanna hold you till the heart breaks stone
When the sun comes up, we can both move on
But we don't have to be lonely tonight
That taste, that touch, the fire I miss
Those kiss me eyes, your red wine lips, oh my
I can use to be, baby I want you, and you want me
We don't have to be lonely tonight
Need you, want you, I'm right here
We don't have to be lonely tonight
I know we shouldn't, but I don't care
I don't wanna be right, I don't wanna be strong
I just wanna hold you till the heart breaks stone
When the sun comes up, we can both move on
But we don't have to be lonely tonight
I can be there in five
One more one last time
We don't have to be lonely tonight
Need you, I'm right here
We don't have to be lonely tonight
Tonight, tonight, yeah yeah