NBC Insider Exclusive
Create a free profile to get unlimited access to exclusive show news, updates, and more!
Sign Up For Free to View
Kaley Cuoco Said "Being Pregnant on TV Was Really Cool" After Based on a True Story
Writers of the new Peacock series Based on a True Story initially planned to have their leading lady be the mother of older children.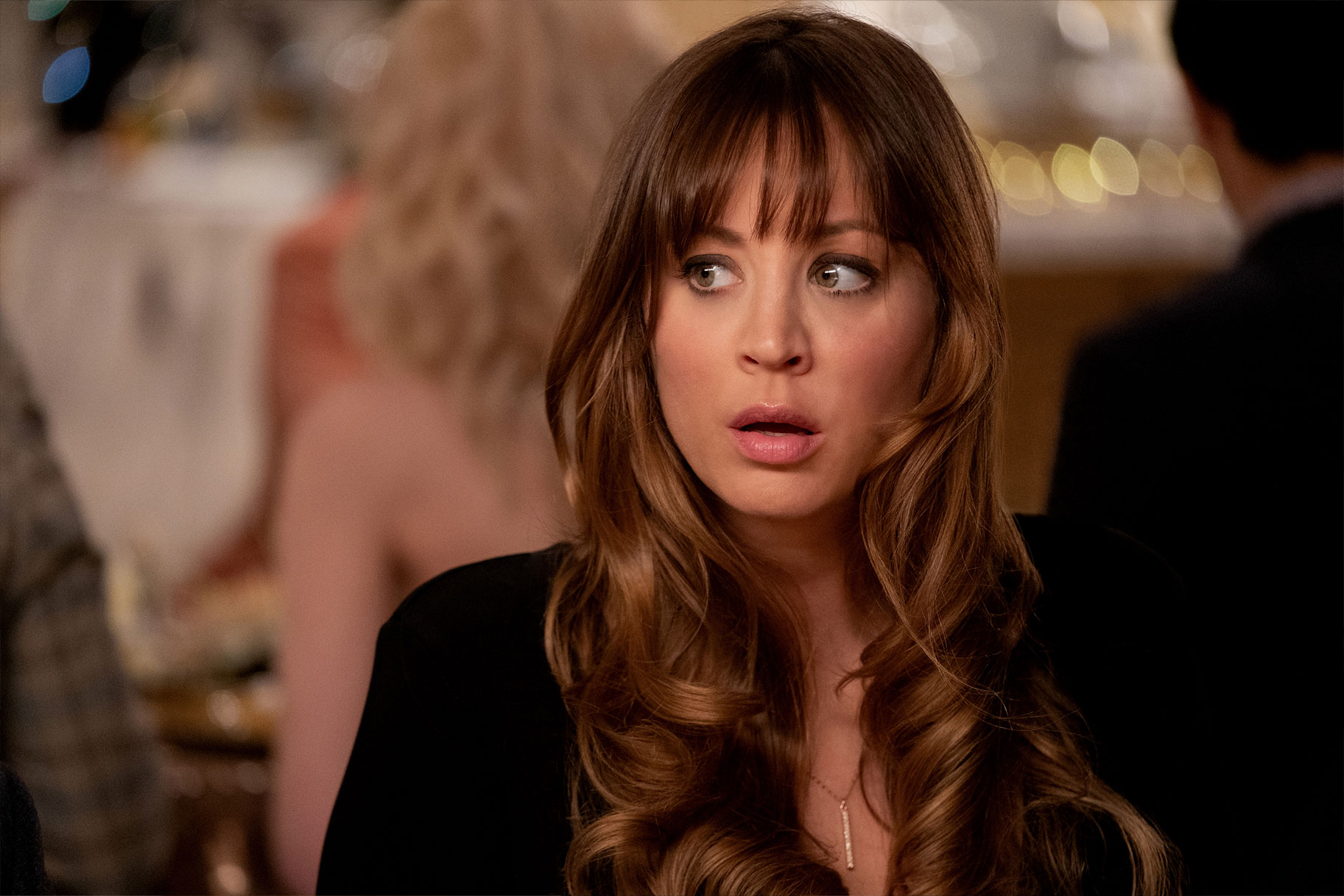 Writers for the new Peacock series Based on a True Story didn't initially plan to have their main character pregnant, but the detail was based on a true pregnancy.
Why Based on a True Story Writers Made Ava Pregnant
Kaley Cuoco, 37, stars as L.A.-based realtor Ava Bartlett, a pregnant woman who — along with her husband — sets out to create the world's hottest new true crime podcast. Though the dark comedy isn't necessarily a true story, there was no faking Cuoco's real-life pregnancy, which was written into the show.
RELATED: Kaley Cuoco and the Based on a True Story Cast Share Their Favorite True Crime Shows
Writers originally planned Ava as a mother with older children, according to Cuoco's interview with Vanity Fair.
"I went to do some chemistry reads with the producers and some actors, and it was then that I told them, 'Hey, what do you guys think about if Ava was pregnant?'" said the Emmy Award-nominated actress. "They looked up at me and were like, 'Oh my god, are you serious?' I'm like, 'Yeah, sorry.'"
NBC Insider's Stephanie Gomulka recently caught up with Cuoco and the Based on a True Story cast ahead of the series premiere, with Cuoco saying it was "awesome" to have her real-life pregnancy written into the show.
"I've really grown up on television, so to now be pregnant on TV, for the show, is actually really cool," Cuoco admitted. "It added the stakes for these characters, actually, for the show."
Cuoco added, "Things [in the series] are spiraling out of control, and then hello, they have a baby on the way." 
On October 11, 2022, Cuoco and her partner, Love & Death actor Tom Pelphrey, announced they were expecting their first child, saying they were "beyond blessed and over the moon."
The pair welcomed their daughter, Matilda Carmine Richie Pelphrey, on March 30, 2023, calling their daughter "the new light of our lives."
"We are overjoyed and grateful for this little miracle," Cuoco captioned with an Instagram photo of Matilda. "We are blessed beyond belief."
Stunt Doubles Had to be Used in Based on a True Story
Cuoco told Vanity Fair she began filming Based on a True Story at around the five-month mark of her pregnancy and stopped shortly before Matilda's birth. Stunt doubles were on-hand for some of the more intensive shots, which included some sex scenes.
"It was honestly awesome to write [the pregnancy] in because I never had to hide anything," said Cuoco. "I could still eat what I wanted and wear what I wanted, and it worked for the character, which is so rare — that you can keep eating for a role."
Cuoco plays real estate agent Ava Bartlett, a woman who regularly gathers with her girlfriends to pore over true crime podcasts and discuss all things murder. Ava is married to Nathan Bartlett — played by The Mindy Project's Chris Messina — a former tennis star longing for his glory days.
RELATED: Kaley Cuoco and Chris Messina Talk Based on a True Story's "Crazy Tone," Their Chemistry, and More
Together, Ava and Nathan — feeling a financial squeeze as they near the birth of their first child — embark on a true crime podcast venture as an elusive serial killer dubbed "The West Side Ripper" terrorizes their community. Of course, their efforts are met with plenty of twists and turns: sometimes hilarious, sometimes terrifying, making for a binge-able series for the summer.
Kaley Cuoco Continued Doing "All the Crazy Things" for the Show
Based on a True Story creator and showrunner Craig Rosenberg said he was inspired to create the series in light of the "true crime phenomenon" that swept America and continues to "dominate the culture."
RELATED: Liana Liberato and Priscilla Quintana Say Based on a True Story is "Very Aware of Itself"
"I became fascinated with the idea of a relatable married couple whose youthful dreams hadn't come to fruition and who saw the true crime tidal wave as an opportunity to change their lives and save their marriage," said Rosenberg. "Our Los Angeles setting — the city where everybody wants to be famous — became a vivid backdrop to our story of fame, ambition, and murder."
Rosenberg pitched Based on a True Story to friend Michael Costigan, who worked with actor Jason Bateman at Aggregate Films. The Ozark and Arrested Development star produces, according to Vanity Fair.
"They really let me be me," said Cuoco. "They really let me do my Kaley thing."
In her interview with NBC Insider, Cuoco said he was glad her pregnancy didn't take the focus away from the story.
"I love that not much changed with the added pregnancy; they were still the same," she said. "They still did all the crazy stuff they had, all the fantasy scenes, all the crazy things. So I kind of loved the way they incorporated it, but it was not the main part of the show at all."
Natalie Dyer (Stranger Things) and Tom Bateman (Death on the Nile) also co-star.
All eight episodes of Based on a True Story drop on Thursday, June 8 on Peacock.