NBC Insider Exclusive
Create a free profile to get unlimited access to exclusive show news, updates, and more!
Sign Up For Free to View
Jocko Sims Reveals How the New Amsterdam Cast Feels Filming the Last Season
"I'm 'gonna be honest. I don't think it's hit anybody yet," Sims said.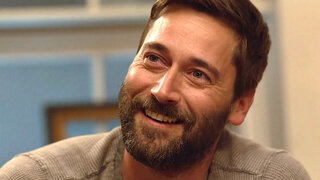 New Amsterdam fans are well aware that, unfortunately, Season 5 (which is currently airing on NBC) is the medical drama's last. 
And while we are still getting used to the idea of being without our favorite doctors, the development still hasn't fully hit its stars. In a September interview with NBC Insider, Jocko Sims (Reynolds) opened up about how the cast feels about their final days on set. And as it turns out, they're so busy filming, they haven't had a chance to fully process what's to come.
"I'm 'gonna be honest. I don't think it's hit anybody yet," Sims said. "I'm 'gonna predict that out of the 13 episodes we're shooting this season, Episode 10? It's a wrap. Nobody's 'gonna be able to hold it together."
On when exactly the cast will fully realize it's New Amsterdam's last season, Sims said, "We need to really start taking that in, and it's 'gonna happen naturally. You know what's 'gonna happen [is] the writers, they're 'gonna write these specific scenes where we're all coming together. And we're 'gonna look each other in the eyes and it's 'gonna be a mess. I know it, know it. It's coming."
Ryan Eggold (Max) also shared a similar sentiment with NBC Insider, even tearing up when reflecting on the show's final days. 
"I don't think it'll hit me until a month or three months or a year from now," he said. "Everyone has always been there to support each other and keep each other going and keep this show and this family together. And that is very moving to me, and to say I'm 'gonna miss everybody is an understatement. I can't imagine what's 'gonna happen on the last day. I'm 'gonna just fall apart. We'll put me on a gurney, wheel me out, give me a big bottle of tequila, and call it a day."
Watch New Amsterdam on NBC Tuesdays at 10/9c and next day on Peacock.