NBC Insider Exclusive
Create a free profile to get unlimited access to exclusive show news, updates, and more!
Sign Up For Free to View
Is Night Court a Real Thing?
How NBC's Night Court—which airs Tuesdays at 8/7c—gets its real-life inspiration for its hilarious stories.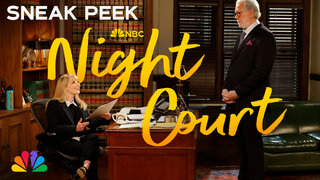 Night Court is back in 2023 with a brand new cast but a similar premise: wacky characters, hilarious cases, all taking place at night.
The night shift at the Manhattan Municipal Court is chaotic—so chaotic, in fact, that viewers may be wondering where inspiration for these eccentric scenarios comes from.
Is Night Court a real thing?
Yes!
Although the cases on Night Court are fictional, its setting is based on a real location. The New York Criminal Court holds sessions at night from 5 p.m. to 1 a.m., according to the New York Post. It also reportedly has, on average, a whopping 70-90 cases during these hours. According to Distractify, the New York night court is to accommodate individuals who are unable to attend court during the day. The court also tends to be a popular tourist attraction, with people wanting to see real cases unfold.
"It is a 'just-off-Broadway show' with a cast of thousands, ever-changing story lines … real drama, as well as occasional comic relief," Edward McCarthy, supervising attorney to Legal Aid Society, told the New York Post. It's no surprise that the writers of both the original and new Night Court have derived their inspiration from these real life scenarios.
According to a 2002 documentary by E! titled TV Tales, a writer for the original Night Court series named Reinhold Weege observed the New York City night court with a group of Judges and found many of the Judges to be off-center and unusual personality-wise. He used these experiences for Night Court, stating he was "just moved by the craziness of New York Manhattan night court." 
When it comes to the OG protagonist Judge Harry T. Stone, his character was based on a real-life situation, too. According to ScreenRant, a previous mayor of Los Angeles attempted to get back at his replacement by intentionally assigning under-qualified candidates to judicial positions. This is very similar to how Stone became Judge on the Night Court show, where the mayor of New York City frantically attempted to fill in judiciary positions last minute, and Stone was the only person who he could get in contact with. However, Stone managed to make his legacy known—something that can be seen in the 2023 Night Court. (Harry has since passed in the new Night Court, but his daughter, Abby, is now the new night court Judge.) 
Watch Night Court Tuesdays at 8/7c on NBC and next day on Peacock.