NBC Insider Exclusive
Create a free profile to get unlimited access to exclusive show news, updates, and more!
Sign Up For Free to View
Is La Brea a Real Place?
The location of the sinkhole on La Brea is based on a real-life historical site!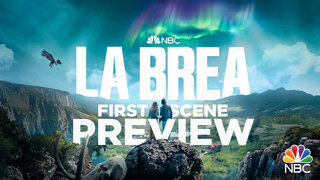 The action-packed sci-fi series La Brea shows its characters getting sucked into a massive sinkhole in Los Angeles at the very start of the show. At the location, a set of mysteries begin to unfold as people desperately try to get their families back. Although the plot is wild and intense, many might not know the setting of the La Brea sinkhole is actually based on a real place! Here is everything you need to know about the site.
What does La Brea mean?
When translated from Spanish to English, the full phrase La Brea means "pitch" or "tar pit", with "brea" by itself meaning "tar". If you're confused, about how this actually relates to the series, we explain below.
Is La Brea a real place?
Yes. Specifically, the La Brea tar pits are real. 
Located in Los Angeles, the La Brea tar pits are a historical and geological heritage site. The tar pits have been researched for more than 100 years and have been the subject of over 400 studies. It is a prime spot for paleontologists, geologists, and archeologists to research and study fossils from the Ice Age as they gradually begin to appear in the area.
Related: You'll Never Guess The Real-Life Location Where La Brea is Filmed
Fossils that have been found belong to ancient animals like saber-tooth tigers, wolves, mammoths, mastodons, and more, many which we've seen La Brea characters encounter in recent episodes. The original Los Angelinos, the Gabrielino-Tongva Native American people, were the first to live in the area centuries ago—and still do. La Brea fans will also recognized that the Tongva people have been incorporated as main characters in the show.
Currently, the tar pits are being researched to give scientists a deeper understanding of the behavior of extinct animals and ecosystems. "La Brea tar pits is a one-of-a-kind site for scientific research into the past with important data for understanding climate change in our own time," said Dr. Lori Bettison-Varga, President and Director of the Los Angeles History Museum.
The La Brea Tar Pits museum even describes the site as a "gateway into the Ice Age." And although a massive sinkhole that transports people to 10,000 B.C will likely not appear at the real La Brea tar pits, you can see this epic plot unfold on your screen by watching La Brea on NBC Tuesdays at 9/8c and next day on Peacock.