NBC Insider Exclusive
Create a free profile to get unlimited access to exclusive show news, updates, and more!
Sign Up For Free to View
Dwayne Johnson Hasn't Dismissed a Presidential Run, with One Caveat
Can you smell what The Rock is cookin' "down the road"? Johnson responded to the campaign rumors on The Tonight Show—and said his next project is the live-action Moana. 
Can you smell what The Rock is (possibly) cookin' when it comes to the question, "Will Dwayne Johnson run for president?" Johnson couldn't entirely dismiss the possibility in his November 13 visit to The Tonight Show Starring Jimmy Fallon. 
The subject came up as Jimmy Fallon asked Johnson about the People's Fund of Maui, headed up by Johnson and Oprah following the deadly wildfires that tore through Hawaii in August 2023. "They were the worst fires that hit U.S. soil in 100 years," Johnson said, thanking people for their help in supporting those affected. "So it was heartbreaking, devastating for the people of Maui—these are my people, my Polynesian people. Our American people." 
With help from corporate partners and donors, Johnson shared that "we've been able to help out over 8,000 survivors. So it's really beautiful."
RELATED: Dwayne Johnson and Jimmy Fallon Just Surprised FAO Schwarz Shoppers—and Paid for Their Gifts
Fallon broached the fact that Johnson recently shared how he was approached by an unnamed political party to "maybe run for president. "How does that feel?" Fallon asked. 
Dwayne Johnson on whether he'll run for President of the United States
This run-for-president talk has kind of been in the ether for the past couple of years, and it never stops being surreal," Johnson told Fallon.
He confirmed that he did meet with operatives from D.C. "A poll was something like, almost 50 percent of Americans would support me running for president," he continued. "It was just crazy."
Johnson remains appreciative of how wild his ascent to fame has been. "I was wrestling in flea markets for 40 bucks per match, hoping that, 'hey, I just want a free corn dog at the end of the night.' And now here we are, years later, I'm sitting with you, and this talk has come up. I'm so grateful."
So, Fallon pressed, "Would this be something that you would ever consider?"
"I think down the road, for sure." Just not now, he made it clear, because it would take away from time spent with his children, who are 22, 7, and 5 years old. "I know what that's like to have an occupation that takes me away from being a daddy," Johnson said. "And that's the most important thing to me."
Dwayne Johnson stokes live-action Moana excitement by singing "You're Welcome" on The Tonight Show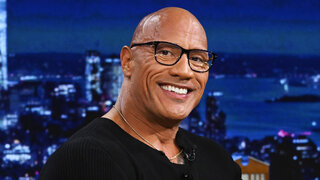 The actor, wrestler, and all-around superstar also discussed his return to the WWE and shared an update on the live-action Moana movie. 
"My next project that I will be shooting is a live-action production of Moana," he confirmed. Saying he's so excited to be the real-life Maui, and equally excited to rep his Polynesian heritage and culture.
Hamilton director Thomas Kail is set to helm the film, with Lin-Manuel Miranda returning for musical duties. To celebrate, Johnson grabbed a mic and treated the audience to a little of Maui's Moana bop "You're Welcome"—watch above.