NBC Insider Exclusive
Create a free profile to get unlimited access to exclusive show news, updates, and more!
Sign Up For Free to View
Bruce Springsteen Is Taking Over The Tonight Show—Here's How to Watch
He's "Thunder Road"-trippin' to see Jimmy Fallon.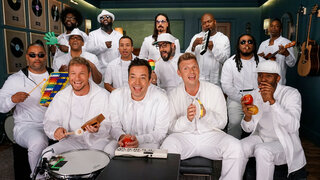 The Boss is returning to 30 Rock! Rock n' roll legend Bruce Springsteen is set to make his third appearance on The Tonight Show, but this one is a little bit more special than all the rest.
As he joins Host Jimmy Fallon, NBC announced in a press release that Springsteen will act as a "lead guest" and star in three different episodes the week of November 14. Other celebrities who've taken over the The Tonight Show include BTS, Ariana Grande, Cher, Miley Cyrus, and Demi Lovato.
The musician will spend his time on the show debuting four songs from his 21st studio album, Only the Strong Survive, which is out on Friday, November 11. So you don't miss one second of his newest project, below is how to catch Springsteen on The Tonight Show.
When will Bruce Springsteen be on the The Tonight Show Starring Jimmy Fallon?
Springsteen will appear as lead guest on The Tonight Show from Monday, November 14 through Wednesday, November 16 at 11:35/10:30c. His final performance will air on Thursday, November 24 at 11:35/10:30c for the series' Thanksgiving episode.
How can I watch Springsteen on the The Tonight Show Starring Jimmy Fallon?
Springsteen's episodes will air at The Tonight Show's regularly scheduled time at 11:35/10:30c on NBC. If you miss it live, you can catch the episode the next day on Peacock.