NBC Insider Exclusive
Create a free profile to get unlimited access to exclusive show news, updates, and more!
Sign Up For Free to View
How to Audition for The Voice
Don't miss your chance to sing your heart out!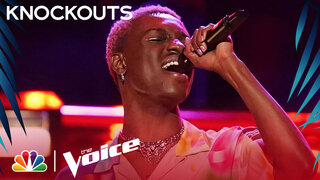 The first casting calls for The Voice are right around the corner!
Due to COVID-19, the Auditions are being held virtually again this year, and they start with virtual open calls. See more details, below. 
When are The Voice virtual open calls?
The first round of Auditions start on November 9 and 10, 2022. They continue a month later on December 7 and 8. The rest of them are held on January 11 and 12, 2023, plus February 7 and 8, 2023.
How do I audition for The Voice?
If you're at least 13 years old, you can sign up for the virtual Auditions by going to the show's official casting website, nbcthevoice.com. From there, you can create an account and select your time slot. When it's time to record yourself, you can choose up to one-and-a-half minutes of one song, either a cappella or with instrumentation. Just be sure to have everything prepared! You will be emailed with the results shortly after your Audition.
If all goes well, from there, as Supervising Casting Director Michelle McNulty told NBC Insider, "We'll ask to have them send multiple songs. If we like what we hear from there, we'll send them to a casting interview where we kind of get to know them a little bit more. And then from there, there's a potential of us asking for additional songs or an additional interview. From there, we have to ultimately present to the producers and network executives. There are definitely cuts along the way. And then after that, we give them a call and say, 'Congratulations, you made it to a Blind Audition.'" 
To get inspired by some amazing singers who made the cut, watch The Voice on NBC Mondays and Tuesdays at 8/7c and next day on Peacock.