NBC Insider Exclusive
Create a free profile to get unlimited access to exclusive show news, updates, and more!
Sign Up For Free to View
Hot Wheels™: Ultimate Challenge Ep. 4 Introduces the Strangest Surprise Yet: the Deora II
The Inspirationator 5000 gave contestants Felix Arguelles and Arushi Garg an out-of-the-box challenge.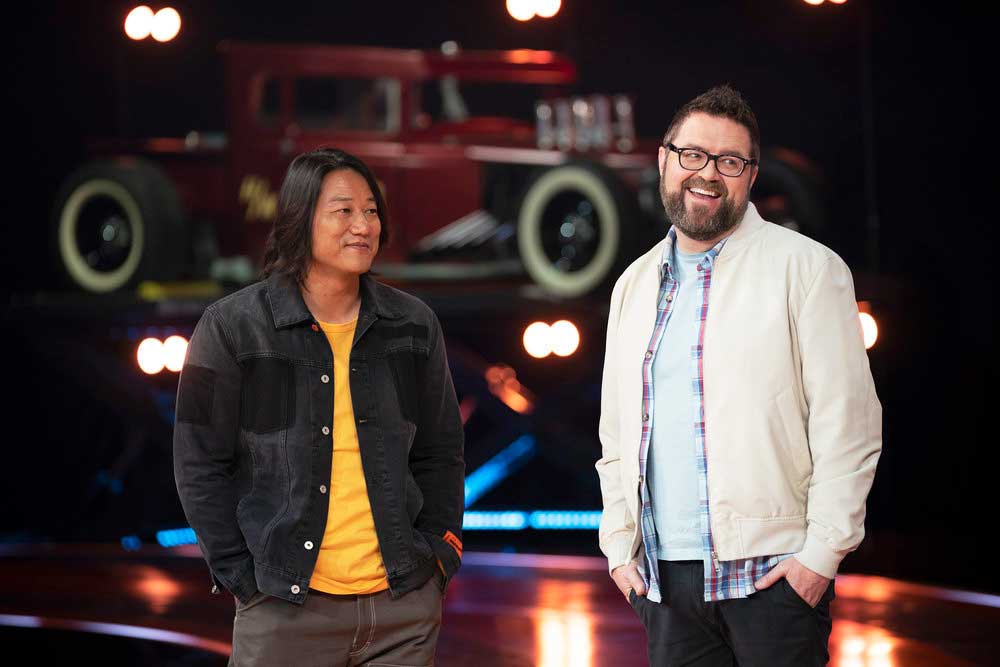 NBC's Hot Wheels™: Ultimate Challenge has already shown us some of the most exciting facets of Hot Wheels history — but in Episode 4, "Skater Boy vs Jaipur Jewel," the Inspirationator 5000 has outdone itself.
Each episode sees Hot Wheels Super Fans go head to head in designing their own larger-than-life Hot Wheels. They look back at their history and lifetime Hot Wheels fandom for inspiration. However, every episode has a twist: The enormous Hot Wheels vending machine known as the Inspirationator 5000 introduces a mystery element the teams then have to incorporate. This week, the Inspirationator introduced the Deora II, which host Rutledge Wood describes as one of his favorite Hot Wheels of all time.
RELATED: Meet the "Car Pool," the Auto Experts Bringing Hot Wheels™: Ultimate Challenge's Builds to Life
"The Deora II debuted in 2000 as a modern twist on the original Sweet 16 Deora from 1968," series judge Dalal Elsheikh explained. "Design cues for the front of this diecast were taken from the rear of a 1996 Ford station wagon. Taking the rear of one vehicle and making it the front! Inducted into the Hot Wheels Hall of Fame in 2003 by Jay Leno, it's one of the most unique Hot Wheels designs. And because of that, it's in our garage of legends."
The "Twist Element" this unusually shaped Hot Wheels dolled out was certainly a challenge: remove one part from the original place on the car and move it elsewhere, or infuse the Deora II body shape in your build.
"I feel good about the Deora Hot Wheels twist because I already freed the entire back of the car and I have all this material to work with," Super Fan Felix Arguelles said.
His competition, Arushi Garg, wasn't so confident about the twist in the beginning. "Getting the roof off is not going with the process that I came in with, but to win this competition, I need to soak in what the judges shared," she said.
However, despite her initial nerves over the change-up, the results speak for themselves! She and her team's Jaipur Jewel took the crown this week, winning her $25,000 and a chance to compete in the finale against two other Super Fans.
You can watch Hot Wheels: Ultimate Challenge at 10/9c on NBC and next-day on Peacock.