NBC Insider Exclusive
Create a free profile to get unlimited access to exclusive show news, updates, and more!
Sign Up For Free to View
How Did the "Bone Shaker" Winner Stack Up Against the Hot Wheels™: Ultimate Challenge Competition?
How will the winner of Hot Wheels: Ultimate Challenge Episode 3 fare against the series' other winners?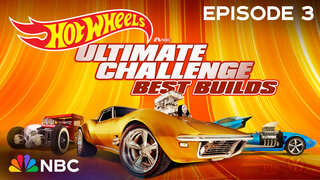 Episode 3 of NBC's Hot Wheels™: Ultimate Challenge is here, which means it's time for another entry of Best Builds, the series' official after show. This week, Aldavid Jimerson's "Spirit of Detroit" took on Rob Anders' "Flamin' Firetruck" with Aldavid coming out on top. 
As always, host Rutledge Wood was joined by judges Hertrech "Hert" Eugene Jr. and Dalal Elsheikh to talk the diecast details and break down how this week's winner stacks up against the others.
RELATED: Hot Wheels™: Ultimate Challenge Host Reveals How Long It Really Takes to Build Dream Cars
"I love the way Aldavid stuck to his story and executed it," Eugene said. "If you look at the 'Spirit of Detroit,' I feel like you feel the spirit of Detroit."
Wood quickly pointed out that both contestants started with incredibly similar cars. Aldavid's Dodge K5 Blazer is basically a "shorter version" of the Dodge short bed pick-up, while Rob started with a Dodge pick-up with a longer bed. And that's where Rob probably went wrong: The long-bed pick-up left too much "real estate untouched," per Wood.
Perhaps more impressive than Aldavid's overall win, though, was his ability to impress Detroit native Elsheikh.
"It made me see that aggression that people talk about when they talk about Detroit," Elsheikh said. "We live through some really cold winters, we've had quite a storied history, and you really see that in this build. But what you also see is how much love and how much passion he has for the city that made him who he is."
What stood out most to the judges about Aldavid's build was the Bone Shaker-inspired fuel tank and flaming exhaust pipes. While both Super Fans were initially hesitant when the Inspirationator 5000 presented them with the classic Bone Shaker, the judges commended Aldavid's creativity in how he tackled the challenge.
"Both teams really went after the wild, crazy exhaust," Wood detailed. "I'll be honest, I didn't love [Aldavid's idea] until I saw it shoot flames."
Watch the latest episode of Best Builds above and check out new episodes of Hot Wheels: Ultimate Challenge at 10/9c on NBC and next-day on Peacock.