NBC Insider Exclusive
Create a free profile to get unlimited access to exclusive show news, updates, and more!
Sign Up For Free to View
Heidi Klum Danced Her Way Through Password, Proving She's The Ultimate MVP
"My little dance helps me."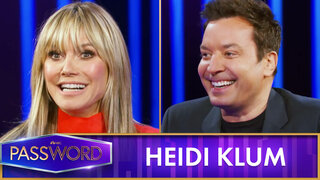 America's Got Talent Judge Heidi Klum is no stranger to delivering under pressure. As one of the most famous supermodels in history, Klum excels at thinking on her feet and being in the moment. So, it only makes sense that she brought her A-game during a recent appearance on Episode 2 of Password, the celebrity game show you need in your life. 
Originally airing in 1961, Password has returned this summer to NBC, featuring Keke Palmer as host and Jimmy Fallon as executive producer. Each episode features Fallon and celebrity guests paired with contestants from all walks of life, competing for cash prizes in the "ultimate game of words."
After a stellar performance, Klum had nothing but positive things to say about her experience on the show. 
"I had a lot of fun, and Keke is amazing, I love her and I love Jimmy," Klum told NBC Insider. "I've known [Fallon] for a very long time. I knew him before he did Late Night. And doing this was hilarious. Normally, I don't love doing game shows like that where you can look stupid really fast..."
Fortunately, Klum has a secret weapon that helps her stay focused, and it's probably not what you'd expect! During the final speed round, Klum stepped back and forth, wiggling her arms to keep herself focused as she raced through an impressive amount of correct answers. 
"My little dance helps me because I have ADD/ADHD," she said. "I have to do a lot of things to keep me focused in a way."
According to Klum, the most challenging aspect about being on game shows is the pressure to perform well.
"It's different from sitting on the couch and not being under pressure," she explained. "And then all of a sudden you have the pressure, and you have the word, and you're like, 'Oh my gosh, how can I make my partner…you know, come up with the word?'"
If being a solid teammate wasn't enough to think about, Klum also mentioned not wanting to let down the causes who benefit from the prize money. 
"[The contestants are] really good people, and they do good things in the world, and they [could] get $25,000. I don't want them to not make that money," she added. 
Watch Password on NBC Tuesdays at 10/9c and next day on Peacock.
Reporting by McKenzie Jean-Philippe