NBC Insider Exclusive
Create a free profile to get unlimited access to exclusive show news, updates, and more!
Sign Up For Free to View
Dolly Parton and Kelly Clarkson Did a Gorgeous Duet of 'I Will Always Love You'
This duet will live in your head rent-free.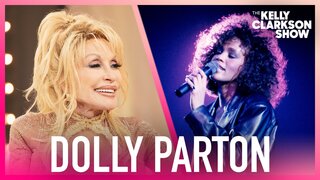 The Kelly Clarkson Show has given us many iconic moments, but having Dolly Parton and Host Kelly Clarkson in the same room is particularly special. Especially when the two musical legends give the audience an impromptu duet of Parton's iconic classic "I Will Always Love You." 
Of course, Parton has released many legendary country music hits over the years, but "I Will Always Love You" is on another level thanks to Whitney Houston's 1992 cover from the movie The Bodyguard. During their interview, Parton and Clarkson mutually fan-girled over Houston's rendition—which prompted the production crew to ask if Clarkson and Parton could sing the track impromptu. 
"Can we sing a little together?" the screen read, with Clarkson shaking her head in panic. The audience instantly went wild, with Clarkson saying she'd cry if she did it—but Parton quickly jumped on board. 
"How about I sing a little bit of it, and you sing harmony with me?" Parton asked Clarkson, who was beaming when she finally agreed. Can you blame her? It's not every day you get to sing with the Queen of Country Music—on one of her own timeless ballads, no less. 
Clarkson took a moment to gather herself before she and Parton began singing the chorus of "I Will Always Love You" a cappella, with Clarkson taking the soprano harmony to Parton's angelic melody. Even with no preparation, the pair flawlessly weaved their voices together for a simply stunning off-the-cuff performance. 
For more fantastic celebrity moments like this, check your local listings for The Kelly Clarkson Show