NBC Insider Exclusive
Create a free profile to get unlimited access to exclusive show news, updates, and more!
Sign Up For Free to View
Cillian Murphy's Oppenheimer Weight Loss Explained
Cillian Murphy was fully committed to transforming his body into one that looked like Oppenheimer.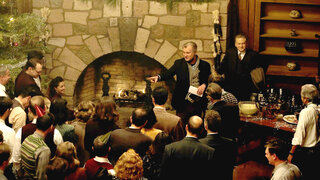 J. Robert Oppenheimer was a very thin man. Photographs and film from throughout the legendary physicist's life show us a bony frame, often topped by a pork pie hat, and an angular face that became recognizable to just about everyone after World War II. While not as instantly recognizable as Einstein to modern audiences, the Oppenheimer look was still something director Christopher Nolan and star Cillian Murphy wanted to get right for Oppenheimer.
That meant a certain amount of weight loss, sometimes to the concern of Murphy's co-stars.
"I love acting with my body, and Oppenheimer had a very distinct physicality and silhouette, which I wanted to get right," Murphy told The New York Times (prior to the onset of the actors strike earlier this month). "I had to lose quite a bit of weight, and we worked with the costume and tailoring; he was very slim, almost emaciated, existed on martinis and cigarettes." Murphy added, "He had these really bright eyes and I wanted to give him this wide-eyed look, so we worked on his silhouette and expressions a lot before starting."
RELATED: Cillian Murphy and Emily Blunt Explain the Horror of Oppenheimer
According to co-stars Matt Damon and Emily Blunt, who play General Leslie Groves and Oppenheimer's wife Kitty, respectively, the weight loss meant that Murphy often declined to join the rest of the cast for dinner at night after shooting was complete.
"We invited Cillian to dinner every night and he never went," Damon told Entertainment Tonight. Blunt added, hopefully jokingly, that Murphy would eat "like, one almond, I think most nights." For Murphy's part, he told ET that it was nothing so dramatic as that.
"They were hanging out," he said. "I was in the bath, learning lines."
How Cillian Murphy Lost Weight For Oppenheimer
Speaking to The Guardian about the weight loss for the role, Murphy declined to discuss his actual methods for dropping pounds to play Oppenheimer, though the outlet does make reference to working with a nutritionist rather than trying to go it alone. Murphy noted that he didn't wish to make his transformation into the father of the atomic bomb all about how much weight he lost, and how. He also made it very clear that he didn't recommend the practice to anyone else.
"You become competitive with yourself a little bit which is not healthy. I don't advise it," he said.
In the book that inspired the film, Kai Bird and Martin J. Sherwin's American Prometheus, the authors make reference to Oppenheimer's diet, which often consisted of much smaller portions than what his colleagues were used to, though it never seemed to bother him. Oppenheimer and his wife loved their martinis with dinner, but the book recounts instances when friends would be invited over for a dinner party that ultimately consisted only of soup, for example.
Oppenheimer seemed to run more on the adrenaline of his work than on food, often simply not thinking of eating, something Murphy found he was emulating thanks to the demanding schedule of the film.
"It's like you're on this f*****g train that's just bombing," he said. "It's bang, bang, bang, bang. You sleep for a few hours, get up, bang it again. I was running on crazy energy; I went over a threshold to where I was not worrying about food or anything. I was so in it, a state of hyper...hyper something. But it was good because the character was like that. He never ate."
Oppenheimer is in theaters now. Get tickets at Fandango.