NBC Insider Exclusive
Create a free profile to get unlimited access to exclusive show news, updates, and more!
Sign Up For Free to View
Inside the Bond of Chicago Med's Will Halstead and Chicago P.D.'s Jay Halstead
One Chicago's favorite brotherly duo.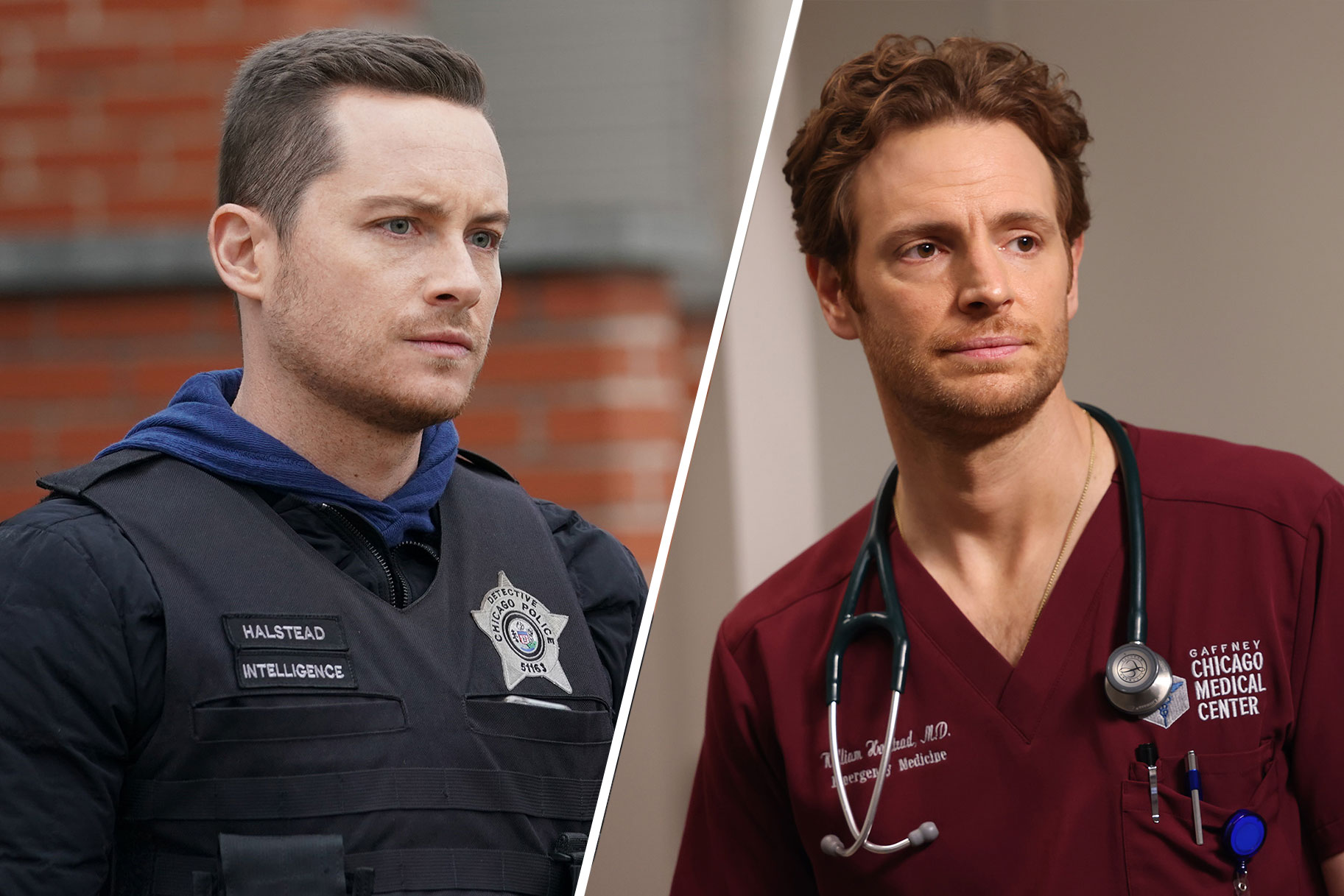 One Chicago is famous for its character crossovers, but there's a special place in the hearts of Chi-Hards for the brotherly duo of Chicago P.D.'s Jay Halstead (Jesse Lee Soffer) and Chicago Med's Will Halstead (Nick Gehlfuss). 
Their sibling bond is one for the ages. Let's explore Will and Jay's dynamic history as fellow emergency personnel in the Windy City. 
Will Halstead joins Chicago Med and becomes Jay's roommate
One Chicago fans first meet Jay in Chicago P.D. Season 1 as an ambitious, tough-as-nails member of the CPD Intelligence Unit. He reunites with his brother, Will, after Will returns to Chicago in the wake of losing a New York City plastic surgery position. Taking a shift at the new Emergency Department at Gaffney Chicago Medical Center, Will decides to crash with his brother temporarily while looking for a job. While Jay is disciplined and reserved, Will enters the One Chicago universe as Jay's much more impulsive and reckless older counterpart. 
Will's first day working at Chicago Med occurs in the Chicago Fire episode "I Am the Apocalypse," the backdoor pilot of Chicago Med and one of the most thrilling crossover events in One Chicago history. Showing up to his shift late, Will tells Jay that he plans to quit. But that shift proves to be eventful. A suicide bomber with a deadly airborne disease sets off a grenade and causes Chicago Med to lock down with all the One Chicago characters inside. Will eagerly helps treat the injured, and fans immediately see his affinity for helping those in need. Lucky for fans of the Halstead brothers, the incident causes Will to stay at Chicago Med and move in with his brother permanently. 
Jay and Will's complicated Halstead family history 
Jay and Will have a great relationship as brothers and best friends, but that doesn't mean everything is peaches and cream for the Halstead family. The brothers grew up on the South Side of Chicago in a blue-collar family, with both of their career paths creating an issue with their father, Pat Halstead, who feels they should have immediately joined the workforce out of high school. While both brothers have a fraught relationship with Pat, Jay's is arguably the worst. 
The most significant point of contention between Jay and Will stems from the death of their mother. She was diagnosed with cancer while Jay was overseas, unable to help her. Jay explains to Will that he's upset about Will's absence during this time, explaining that he wasn't around when their mother died because he was "out partying." Naturally, Jay harbors resentment toward Will, and Will feels guilty. It seems as if Will tries to rectify this with his relationship with Pat.
Jay and Will mourn their father's death
Jay and Will's relationship with their dad gets even more complicated when Pat enters the ED after being trapped in a fire in his apartment building. Suffering from issues stemming from smoke inhalation, Jay is devastated and decides to investigate the fire's causes and arrest the person responsible. While Jay is gone, Pat's condition crashes, and even though Will is able to resuscitate him, he's pronounced brain dead. Jay is devastated and gets into a heated argument with Will over whether or not to take their father off the ventilator. While Will had the chance to find closure with Pat, Jay insists that their father is still coherent, clearly because they left off on such a poor foot. Will agrees to keep Pat on the ventilator for as long as Jay wants, but Jay finally admits that he understands his father won't wake up, and they need to let him go. 
Cut to Chicago P.D. Season 6, Episode 2: Will and Jay meet up at their father's house and make a shocking discovery. The core of Jay's issues with Pat was his father's disapproval of him becoming a cop, touting the belief that "real men" should enter the workforce as soon as possible. However, when looking through their father's belongings, Jay finds a portrait of Jay being accepted as a cop, indicating that Pat was actually proud of Jay. Will comforts Jay as he breaks down, finally able to mourn his father's death properly.
Jay and Will always have each other's back
Despite Jay being the younger brother of the two, he is ferociously protective of Will and always eager to defend him. This is especially apparent when Will becomes a suspect in the Chicago P.D. and Law & Order: SVU crossover episode "The Number of Rats." Will agrees to come help with the investigation of a serial murder case in NYC but is shocked to learn he is a potential suspect due to living in New York at the time. Jay is furious about his brother being brought into questioning and getting blindsided to provide a statement without his knowledge. Jay forces his brother, who's ultimately cleared, to leave despite wanting to help with the investigation. 
Throughout Will's time on Chicago Med and Jay's run on Chicago P.D., the two brothers have tackled numerous emergencies together. Sure, the brothers have the occasional disagreement, but they've quickly become One Chicago fan favorites. Jay keeps Will grounded while Will shows Jay that it's OK to let loose, and the two have only grown closer throughout the course of the franchise.
Chicago P.D Season 10 and Chicago Med Season 8 will return to NBC this fall. Stream episodes of the shows now on Peacock.