NBC Insider Exclusive
Create a free profile to get unlimited access to exclusive show news, updates, and more!
Sign Up For Free to View
All About That Surprising, Beautiful Stellaride Wedding on Chicago Fire
It didn't exactly go as planned!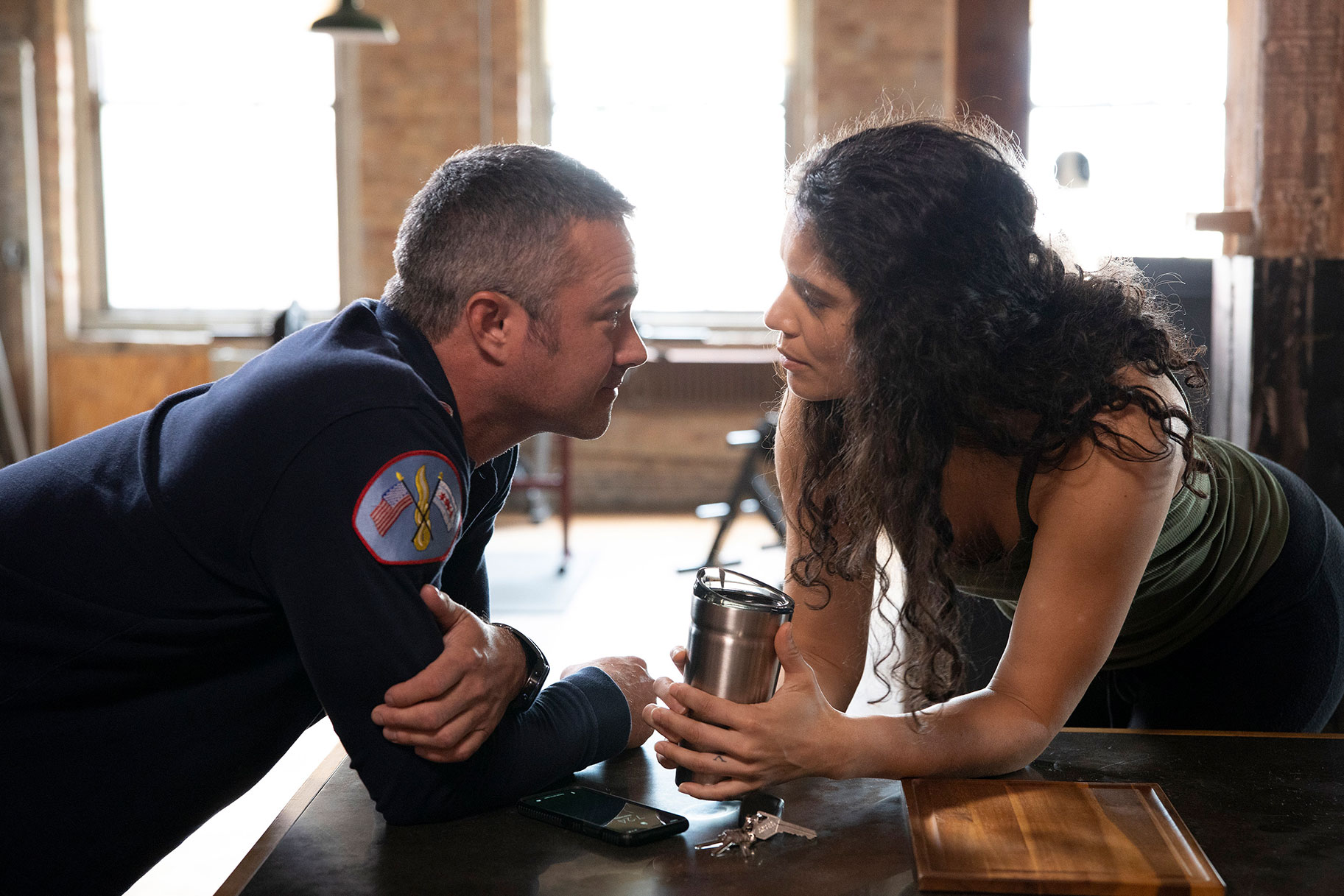 The Chicago Fire Season 10 finale was jam-packed with action, drama, and...a wedding. Let's just cut to the chase and dive into the biggest moments from the episode. Our heads are still spinning. 
After a several-episode hiatus, Sylvie Brett (Kara Killmer) made her triumphant return to Firehouse 51. The fan favorite took a leave of absence to alleviate her and Matthew Casey's (Jesse Spencer) long-distance issues, but she came back to fulfill her maid of honor duties for Stella Kidd's (Miranda Rae Mayo) wedding to Kelly Severide (Taylor Kinney). She also got the lowdown on Emma Jacobs' (Caitlin Carver) plan to blackmail Evan Hawkins (Jimmy Nicholas) into firing Violet Mikami (Hanako Greensmith). 
As promised, Casey also made his return  to Firehouse 51, though not for long. He's in town to be Severide's best man but has etched out a very great life for himself in Oregon, fighting wildfires and looking after Andy Darden's sons. In a very touching scene, Casey gave Gallo (Alberto Rosende) his favorite axe, the Thunder Bolt. "You're not new blood anymore, Gallo," Casey told him. "You're Old Guard." 
But what is the future of Casey and Brett?
While dancing at the Stellaride wedding, Casey and Brett had an honest conversation questioning how much longer they'll be able to make long distance work. Casey is so content in Oregon, and Brett is happy to be back at Firehouse 51. So, does this mean their relationship is coming to an end? We'll have to wait and see. 
The moment fans were waiting for happened—albeit with some bumps in the road. Yes, Kidd and Severide tied the knot after deciding they couldn't wait a second longer for their wedding. We have all the details about those surprising, stunning nuptials below. 
The plan:
Somehow, the location Kidd wanted at the Crystal Gardens had a last-minute cancellation, which meant she and Severide were in. But that was the easy part (or so fans thought). They still had to execute a rush wedding from scratch, but thankfully Christopher Herrmann (David Eigenberg) swooped in to assign everyone jobs. The Molly's crew would handle booze, Ritter's on food, and Violet and Gallo were picked for flower arranging. Capp and Tony were assigned "chairs," which...came up in a very funny way later in the episode. 
Kidd asked Boden if he would walk her down the aisle! "That would be my greatest honor," Boden told Kidd. "The wedding could be yesterday and on the moon, and I would still find a way to walk you down that aisle." 
The bachelorette party:
It took place at Firehouse 51, naturally—these women have busy schedules! No booze, but lots of fun games, decorations, and cupcakes. Everyone deserves a best friend like Sylvie Brett. 
A hiccup: 
It's Chicago Fire, so of course the Stellaride wedding came with complications. When the canceled wedding that gave them the spot at Crystal Gardens was put back on, Kidd, Severide, and company found themselves all dressed up with nowhere to say, "I do." But this is a resourceful crew: Casey found a tour boat with only two people signed up and bought the whole thing out. Thankfully, they had all the supplies for a wedding...and chairs to spare courtesy of Capp and Tony. That's right, people: Stellaride got married on the water. 
A call from Severide's mom: 
In a very sweet moment, Severide's mom called him right before his nuptials. She was planning on coming to surprise him, but her flight got delayed. She told her son to forget what she said about "Severide men shouldn't marry": "I've see how committed you are to your bride-to-be; you deserve all the happiness in the world, my boy."
The vows:
Kidd: "Kelly, the simple truth is that you are magic to me. Whenever I'm at my lowest, you lift me up. You never leave my side. You are the good-est of men. And yes, we are taking a huge, crazy leap in the unknown, but we're doing it together. And right when I need it, you'll say, "You got this, Stella Kidd." And I'll know that everything will be OK because it always is when I'm with you. I love you with everything I got, Kelly Severide, and I can't wait to spend the rest of my life with you."
Severide: "Stella, I decided a long time ago that if I was 'gonna be with you, I needed to be worthy of you, which seemed impossible. How do I become worthy of someone who's brave enough to show themselves inside and out? You show me who you really are and show me how to do the same. And then by some miracle you love me anyway. Stella, I might not ever be worthy of you, but I promise to spend the rest of my life trying.I love you." 
Emma Jacobs shows her true colors 
After an incident takes Emma and Violet to a burning building, everyone is shocked when Emma literally can't take the heat and flees the site—leaving Violet left to treat a patient on her own. Emma's gross display of cowardliness put the spotlight on her in a very, very bad way. She wound up leaving Firehouse 51 for good because of it—effectively saving Violet and Hawkins from blackmail. 
Violet and Gallo...headed for romance?
While prepping the wedding flowers, Gallo stole some glances at Violet that indicated he's still crushing on her. And Violet did the same at the wedding while also mentioning she's not thrilled with how little Hawkins did to help the Emma situation. This could be laying the groundwork for a Violet and Gallo romance in Season 11, but, like always, we'll need to watch and find out. 
Severide's courthouse debacle 
After arriving to court to testify against the drug dealer who put him in the hospital, Severide is ambushed by one of said drug dealer's lackeys. A tussle ensued that led to Severide kicking the lackey and pushing him through a window. He was killed instantly. 
...Who's in the car? 
Then, at the end of the episode, Stellaride arrived to a remote cabin for some post-wedding fun. A mysterious truck pulled up shortly after they go inside, but who's in it? Someone connected to the drug dealer, perhaps? Or the drug dealer himself? We were told he fled town after the courthouse incident, but maybe he was just lying low. It looks like Chicago Fire has laid the foundation for an intense, scary season for Severide.