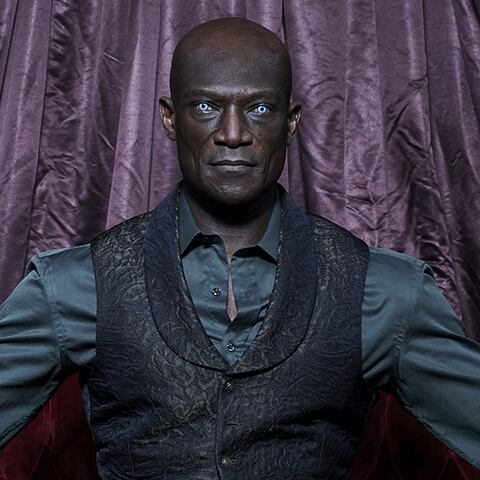 Lemuel Bridger
Played by
Peter Mensah
Actor Bio
Peter Mensah stars as Lemuel Bridger on NBC's supernatural thriller "Midnight, Texas."

Lemuel is a powerful and wise vampire who works the night shift at the pawn shop. He is one of the oldest residents of Midnight and has an intense connection with his wife, and resident assassin, Olivia Charity.

Mensah was born in Ghana of the Ashanti tribe. At a young age, he moved to Hertfordshire, England, with his father, an engineer, and his mother, a writer.

Through acting with repertory companies in Britain, Mensah acquired a love of the theater and a passion for acting. After graduating from college, he traveled extensively in Europe, working as an engineer until he moved to Canada, where he started his professional acting career. His work there led him to Los Angeles, where he currently resides.

Mensah has distinguished himself in such films as "300" and "300: Rise of an Empire" for director Zack Snyder; Antoine Fuqua's "Tears of the Sun," starring Bruce Willis; "Hidalgo," opposite Viggo Mortensen and Omar Sharif; and James Cameron's "Avatar." Mensah recently made forays into comedy, working with director David Wain and writer Michael Showalter on "The Second Sound Barrier." He will soon be seen starring in the "The Scorpion King: Book of Souls."

Mensah has also appeared on numerous TV series, recurring on "Sleepy Hollow" as an avenging god and as a series regular on "Spartacus: Blood and Sand" and the prequel, "Spartacus: Gods of the Arena." Mensah could also be seen recurring as a council member on HBO's "True Blood." Prior to that, he recurred on "Terminator: The Sarah Connor Chronicles," "Nero Wolfe," "Witchblade" and "Star Trek: Enterprise."

Mensah is an avid basketball player and a practitioner of the martial art of Wushu. He is dedicated to several causes, especially those concerning the environment and Africa.