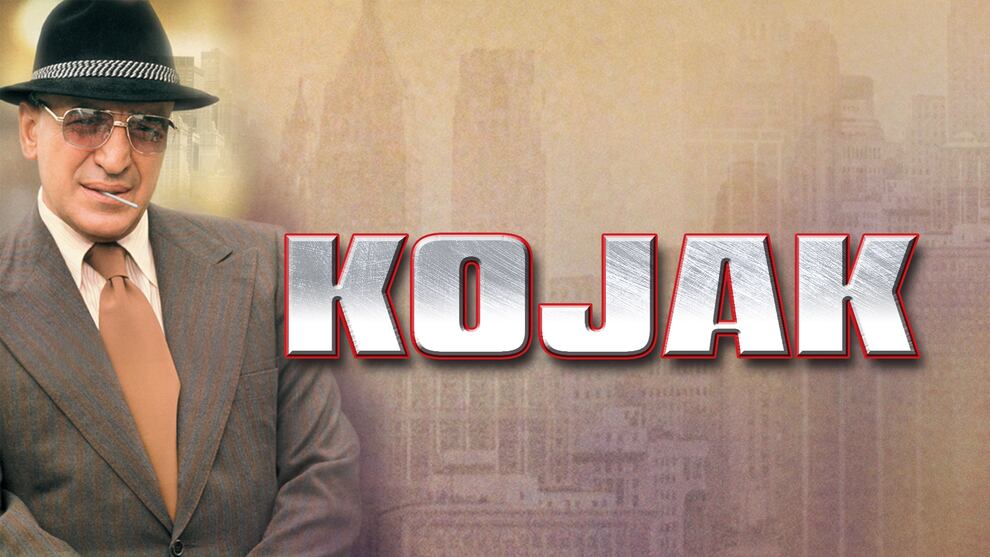 About the Show
Drama, Crime and Mystery
About the Show
Premiere Date
October 24, 1973
Starring
Telly Savalas as Lieutenant Theo Kojak
Kevin Dobson as Detective Bobby Crocker
George Savalas as Detective Stavros
Dan Frazer as Captain Frank McNeil
Telly Savalas ("The Dirty Dozen," "On Her Majesty's Secret Service") stars as Lieutenant Theo Kojak, a wisecracking New York City detective known for his signature lollipop and signature line, "Who loves ya, baby?" Working out of Manhattan's 11th Precinct, Kojak is a tough, cynical, but fundamentally decent man with a dark wit and a tendency to do whatever it takes to make a collar, even if it means bending a rule or two. Supervised by Captain Frank McNeil (Dan Frazer), Kojak commands a squad that includes plainclothes Detective Bobby Crocker (Kevin Dobson, "Knots Landing"), Detective Stavros (Savalas' brother George, who went by the last name Demosthenes in early credits), Detective Saperstein (Mark Russell, "Mission: Impossible") and Detective Rizzo (Vince Conti). Together the squad works to clean up the mean streets of New York during a particularly gritty period in the city's history. 
Created by Abby Mann ("Judgment at Nuremberg"), "Kojak" was inspired by the writer's earlier work on the made-for-TV movie "The Marcus-Nelson Murders," which in turn was based on the real-life Wylie-Hoffert murder case of 1963. An early precursor of today's gritty, ripped-from-the-headlines cop shows, "Kojak" emphasized more realistic police work than its glamorized contemporaries and became a worldwide phenomenon.
"Kojak" featured a host of notable guest stars, including F. Murray Abraham ("Amadeus," "Homeland"), Danny Aiello ("The Professional," "Moonstruck," "Do the Right Thing"), Richard Gere ("Pretty Woman"), Eileen Brennan ("Private Benjamin," "Will & Grace"), Hector Elizondo ("Chicago Hope"), Gloria Grahame ("It's a Wonderful Life," "Oklahoma!"), Lynn Redgrave ("Georgy Girl"), Harvey Keitel ("Reservoir Dogs," "Pulp Fiction," "Moonrise Kingdom"), Sylvester Stallone ("Rocky"), James Woods ("Once Upon a Time in America," "Casino"), Lawrence Pressman ("Transparent") and Daniel J. Travanti ("Hill Street Blues").
Over its five seasons on the air, "Kojak" featured the writing debut of Donald P. Bellisario ("Battlestar Galactica," "Quantum Leap," "JAG," "NCIS") as well as episodes directed by famed feature director Richard Donner ("Superman," "Superman II," "The Goonies," "Lethal Weapon"). Telly Savalas was nominated for multiple Emmy and Golden Globe awards for his role, winning the Golden Globe in 1975 and 1976, and he directed multiple episodes of the series.