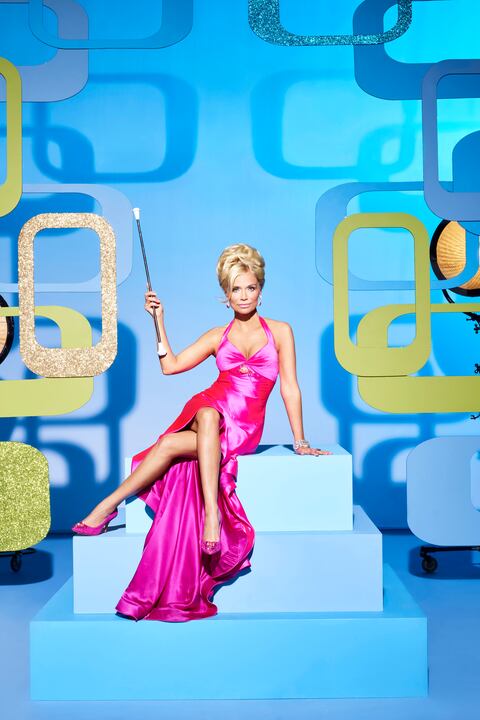 Velma Von Tussle
Played by
Kristin Chenoweth
Actor Bio
Kristin Chenoweth will star as Velma Von Tussle on NBC's upcoming holiday musical "Hairspray Live!"
An Emmy and Tony Award-winning actress and singer, Chenoweth's career spans film, television, voice-over and stage. In 2009, she received an Emmy for Best Supporting Actress in a Comedy Series for her role on "Pushing Daisies" and has also been nominated for two Emmy Awards and for a People's Choice Award for her role on "Glee." Other notable television appearances include "The West Wing," "Descendants" and, most recently, "The Muppets."
On stage, Chenoweth won a Tony in 1999 for "You're a Good Man, Charlie Brown." She was nominated in 2015 for the Roundabout Theatre Company's musical "On the Twentieth Century" and in 2004 for her role as Glinda the Good Witch in the long-running Broadway hit "Wicked."
Chenoweth has performed to sold-out audiences across the world, including performances at Carnegie Hall and Royal Albert Hall. In 2014, she released a CD and DVD of her own live concert performance, "Kristin Chenoweth: Coming Home," and is currently working on a new album due out this fall.
On the film side, Chenoweth voiced the role of Gabi in the hit animated film "Rio 2" and Fifi - Snoopy's beloved French poodle - in "The Peanuts Movie." She is in pre-production on Lionsgate/Hasbro's "My Little Pony" movie, set for a fall 2017 release.
In 2009, she wrote an uplifting, candid and comedic chronicle of her life, "A Little Bit Wicked," which debuted on the New York Times hardcover nonfiction best-seller list. In 2015, Chenoweth received a coveted star on the Hollywood Walk of Fame.
Chenoweth's dream of designing her own jewelry line came to fruition when her collection became available for purchase on HSN. Each piece of the collection tells a unique story that is representative of her life story and passions. 
An Oklahoma native, Chenoweth is a graduate of Oklahoma City University, with a master's degree in opera performance, and formed a charity partnership with the Broken Arrow Performing Arts Center (BA PAC) Foundation. She is a passionate supporter of charities that dedicate their time and efforts to helping those in need and is an inductee into the Oklahoma Hall of Fame and the Oklahoma Music Hall of Fame.