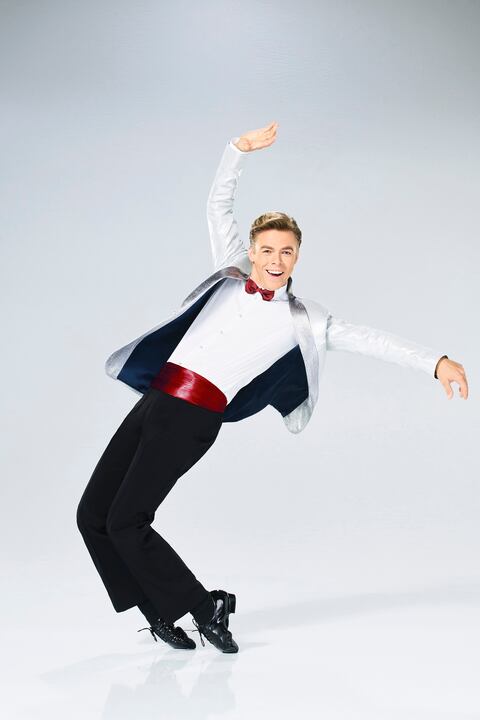 Corny Collins
Played by
Derek Hough
Actor Bio
Derek Hough will star as Corny Collins in the December 7 NBC production of "Hairspray Live!"
A two-time Emmy Award winner, seven-time nominee for best choreography and a New York Times best-selling author, Hough is the only six-time champion in franchise history of the hit ABC show "Dancing with the Stars." Hough has appeared in film, television and stage projects as an actor. 
With celebrity partners on "Dancing with the Stars" that have included Brooke Burke, Shannon Elizabeth, Jennie Garth, Ricki Lake, Maria Menounos, Nicole Scherzinger, Jennifer Grey, Kellie Pickler, Amber Riley, Amy Purdy and Bindi Irwin, Hough is best known for his innovation and daring choreography. Hough is the winningest professional dancer with five Mirror Ball trophies. His work has brought him Emmy nominations and inquiries from the film and music world regarding his dance knowledge and ability. 
He began dancing in his hometown of Salt Lake City at age 11 and one year later moved to London to live and train with the top dance coaches in the world. He attended the prestigious Italia Conti performing arts school, where he studied theater, music and dance.
He made his feature-film debut for director Duane Adler and producer Robert Cort in "Make Your Move" and has a recurring role on the ABC series "Nashville." His stage performances include Radio City Music Hall's "Spring Spectacular," co-starring alongside the Tony-winning Laura Benanti, and the critically acclaimed production of "Footloose," which he starred as the male lead in London's West End. Hough will take the stage again in 2017 when he stars in the role Gene Kelly made famous in the Harvey Weinstein production of "Singin' in the Rain" on Broadway.
Hough was one of the featured dancers on the original "Dancing with the Stars" tour and a choreographer on the BBC hit show "Dance X." In addition to choreographing the hit music video "Parachute" for British pop star Cheryl Cole, Hough performed live with her on her 2010 concert tour in England and France to rave reviews and standing ovations.
Hough can also add author to his growing list of credits. His memoir, "Taking the Lead: Lessons from a Life in Motion," hit stands in 2014 and made the prestigious New York Times best-seller list during two non-consecutive time periods. That same year, Hough and his sister, Julianne, teamed for a stage dance concert, "MOVE Live on Tour," performing in 50 cities around the country. In 2015, they toured again, and sold out scores of venues on their 47-city outing.