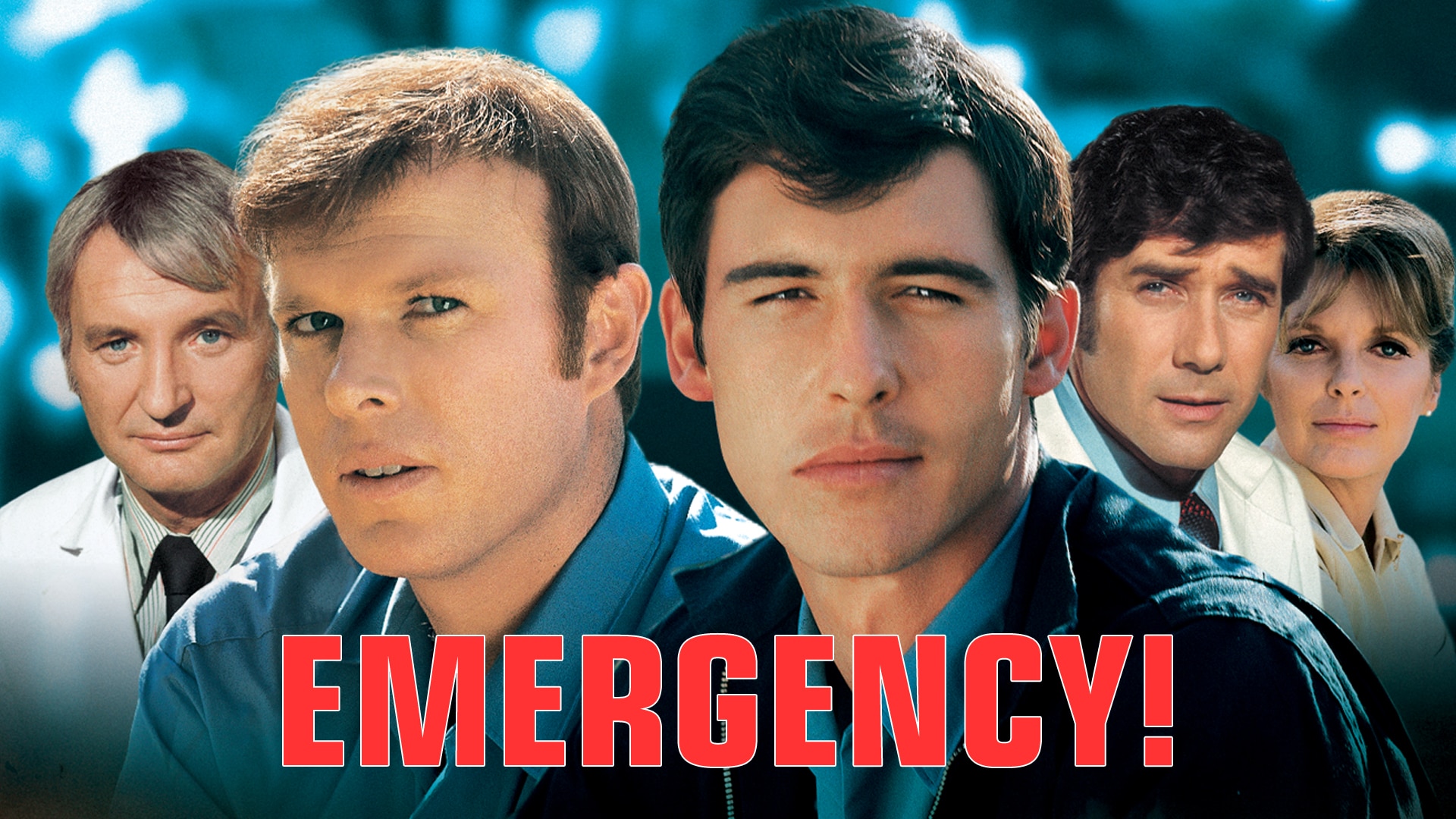 About the Show
Premiere Date
January 15, 1972
Starring
Randolph Mantooth as John Gage
Kevin Tighe as Roy DeSoto
Julie London as Dixie McCall, R.N.
Bobby Troup as Joe Early, M.D.
Robert Fuller as Kelly Brackett, M.D.
Marco Lopez as Marco Lopez
Mike Stoker as Mike Stoker
Tim Donnelly as Chet Kelly
Michael Norell as Captain Hank Stanley
A groundbreaking medical action drama, "Emergency!" chronicled the early years of the paramedic program in the Los Angeles County Fire Department (LACoFD) and is often credited for its significant impact in promoting the widespread adoption of paramedic services by hospitals and fire departments. The series followed firemen paramedics John Gage (Randolph Mantooth, "As the World Turns") and Roy DeSoto (Kevin Tighe, "Another 48 Hours," "Road House") of Squad 51 and the emergency room staff of Rampart General Hospital with whom they interacted, including head physician Dr. Kelly Brackett (Robert Fuller, "Wagon Train," "Laramie"), head nurse Dixie McCall (Julie London, "Man of the West") and neurosurgeon Dr. Joe Early (Bobby Troup).
The creators of "Emergency!" worked to accurately portray the new field of paramedics. Creator and Executive Producer Robert Cinader ("Adam-12," "Dragnet") had show writers source all rescue storylines from actual fire station logbooks, and every script was fact-checked by technical consultants Dr. J. Michael Criley, the creator of the LACoFD paramedic program, and LACoFD Battalion Chief James O. Page. Current equipment and vehicles were used, and in exterior shots, the fire station and hospital were represented respectively by LACoFD Fire Station 127 in Carson, California and Harbor General Hospital in Torrance, California.
Notable series guest stars include John Travolta ("Pulp Fiction," "Saturday Night Fever"), Kareem Abdul-Jabbar, Mark Harmon ("NCIS," "Chicago Hope"), Nick Nolte ("Cape Fear," "48 Hrs."), Marion Ross ("Happy Days"), Adam West ("Batman"), Kathleen Quinlan ("Apollo 13"), Bruno Kirby ("City Slickers," "Donnie Brasco"), Deidre Hall ("Days of our Lives"), Kim Richards ("The Real Housewives of Beverly Hills," "Escape to Witch Mountain"), Joe E. Tata ("Beverly Hills, 90210"), Joanna Kerns ("Growing Pains"), Kevin Dobson ("Knots Landing," "Kojak"), Jamie Farr ("M*A*S*H"), Vic Tayback ("Alice") and Melissa Gilbert ("Little House on the Prairie").
Created by Jack Webb, Robert A. Cinader and Harold Jack Bloom, "Emergency!" was a spin-off of "Adam-12," which was itself a spin-off of "Dragnet," and all three series existed in the same universe, with characters from "Emergency!" and "Adam-12" crossing over twice. "Emergency!" ran for six seasons from 1972 to 1977 and spun off an animated version called "Emergency +4" on NBC Saturday mornings from 1973 to 1976. The show returned in a series of Movies of the Week for television from 1978 through 1979; these six movies include "The Steel Inferno," "Survival of Charter #220," "Most Deadly Passage," "What's a Nice Girl Like You Doing?," "The Greatest Rescues of Emergency" and "The Convention."