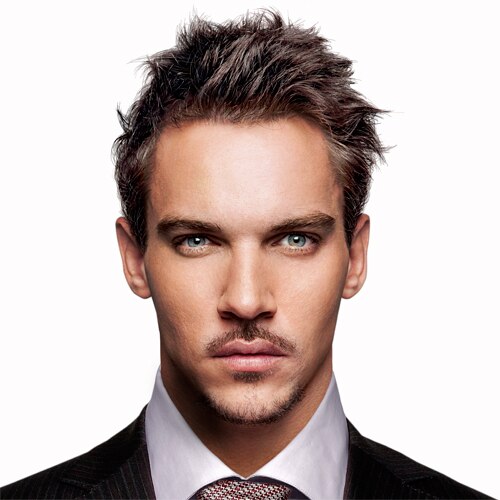 DRACULA/ ALEXANDER GRAYSON/ VLAD, TEPES
Played By Jonathan Rhys Meyers
Actor Bio
Golden Globe winner Jonathan Rhys Meyers stars as the mysterious and eccentric title character in NBC and Sky Living's drama "Dracula."
Born in Dublin, Rhys Meyers made his film debut in "A Man of No Importance." However, it was his starring role in Todd Haynes' 1998 feature "Velvet Goldmine," with Ewan McGregor and Christian Bale, which garnered him international attention and a London Film Critics' Circle Award.
Rhys Meyers also earned critical acclaim for his role in the Woody Allen film "Match Point." Dubbed Allen's comeback film, the movie was nominated for three Golden Globes, including Best Drama. The film, which co-starred Scarlett Johansson, debuted at the Cannes Film Festival in 2005 with Rhys Meyers winning the festival's Chopard Trophy for young breakout star.
Rhys Meyers is also recognized for his role as the girls' soccer coach in the 2002 award-winning sleeper hit "Bend It Like Beckham," in which he co-starred with Keira Knightley and Parminder Nagra. He also had roles in Oliver Stone's epic "Alexander," with Colin Farrell and Angelina Jolie, and Mira Nair's "Vanity Fair" with Reese Witherspoon.
Other film credits include "Mission Impossible 3," "August Rush," "From Paris with Love," "Albert Nobbs" with Glenn Close, "The Maker," "Telling Lies in America," "The Governess" opposite Minnie Driver, the thriller "B. Monkey," Mike Figgis' "The Loss of Sexual Innocence," Ang Lee's western "Ride with the Devil," Julie Taymor's "Titus," "Prozac Nation" opposite Christina Ricci, "The Tesseract," the crime drama "I'll Sleep When I'm Dead," "The Emperor's Wife" and "Belle du Seigneur," the English-language adaptation of Albert Cohen's epic Swiss tale of a tortured love affair.
Last fall, Rhys Meyers, co-starring with Lily Collins, finished shooting "Mortal Instruments," an independent feature based on the popular novel trilogy "City of Bones."
On the small screen, Rhys Meyers won a Golden Globe and was Emmy-nominated for his work in the 2005 CBS miniseries "Elvis." He was Globe-nominated in 2008 and 2009 for his portrayal of Henry VIII in Showtime's series "The Tudors."
Among his other television credits are the Showtime presentation of "The Lion in Winter" with Patrick Stewart and Glenn Close, Alfonso Arau's "The Magnificent Ambersons," "Gormenghast," "The Tribe" and "Samson and Delilah."
Rhys Meyers currently resides in London.