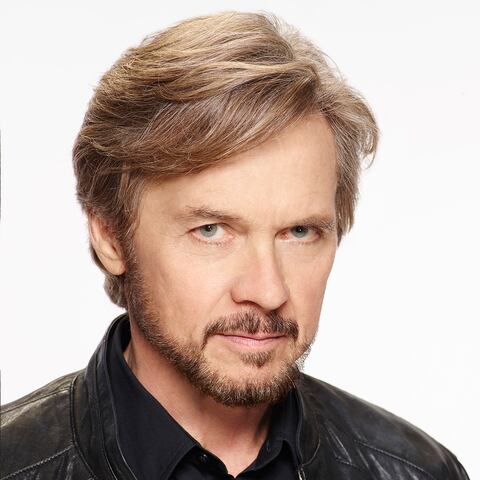 Steve "Patch" Johnson
Played by
Stephen Nichols
Actor Bio
Stephen Nichols is back portraying the iconic character he created, Steve "Patch" Johnson on "Days of our Lives." The bad guy with the heart of gold quickly became  wildly popular and grew to be one of the most beloved characters in daytime television. He was one of only two daytime actors ever to appear on the international TV-Q list, which included film and television stars and sports figures. Nichols was ranked second on that list of 10 for both recognizability and likeability. Nichols earned an Emmy Award nomination for Outstanding Actor in a Leading Role and five Soap Opera Digest Best Actor Awards.

Nichols has appeared in several feature films, first co-starring with Demi Moore in "Choices." He also starred in the horror classic "Witchboard" and appeared in "Soapdish" with Whoopi Goldberg and Robert Downey, Jr. He starred in "Heaven's Tears," "Cover Me," "Phoenix" with Brad Dourif and the Showtime short "A Hard Rain," opposite John Mahoney, which earned best film honors at the British Film   Festival.

Nichols created yet another iconic daytime television character, Stefan Cassadine, in a seven-year run on "General Hospital." More recently, on "The Young and the Restless," he portrayed Jeanne Cooper's son, Tucker McCall. In primetime, Nichols has appeared opposite Dennis Hopper in "Crash" and on "Melrose Place," "She Spies," "Sisters," "The Nanny," "Matlock," "L.A. Law," "Diagnosis Murder," "In the Heat of the Night" and in recurring roles on "Empty Nest" and "2000 Malibu Road." He was also a series regular on "Second Chances." He portrayed the outlaw Jesse James, opposite Pierce Brosnan, in the NBC miniseries "Around the World in 80 Days."

For his work in the theater, he has been honored with several Drama-logue and L.A. Weekly Awards for his performances in such notable stage productions as "Pieces of Time" and "Delirious." He portrayed Jim Morrison in the heralded Los Angeles production of "The Lizard King." Other stage appearances include "The Cage" at LATC, "The Shadow Box," "Love Letters at the Canon Theater," "He Hunts" at the Geffen Playhouse and Joe Pintauro's "The Dead Boy." His most recent stage appearance was as Richard Roma in David Mamet's "Glengarry Glen Ross" at Pacific Resident Theatre.

Nichols most recently directed the short film "I See," a comedic take on the subject of government surveillance. Other directing projects include the dramatic short film "Get the Dime," starring Daniel Bess and Robert Picardo, which was a director's pick at the prestigious Palm Springs International Festival of Short Films, the Nevada City Film Festival and the Ohio Independent Film Festival.

Nichols lives in Los Angeles with his lovely wife, Lisa. He has three wonderful children, Vanessa, Aaron and Dylan. Vanessa recently blessed him with his first two beautiful grandbaby boys.