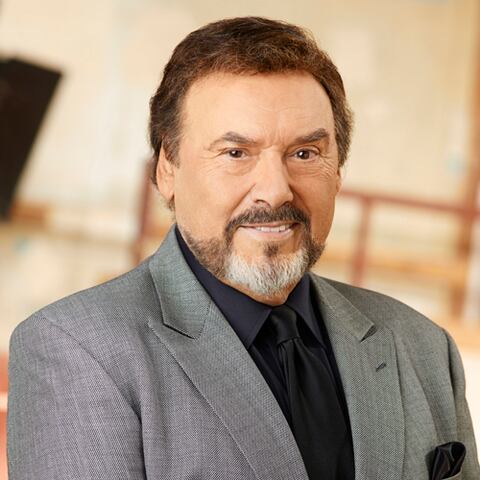 Stefano DiMera
Played by
Joseph Mascolo
Actor Bio
Just like Stefano DiMera, the character he plays on NBC's daytime drama Days of our Lives, Joseph Mascolo is somewhat of a Phoenix as well. He's had the good fortune to have been successful in two very competitive fields, first as a musician and then as an actor. Born and raised in West Hartford, Connecticut, Mascolo attended both the University of Miami and West Point Academy. From his early years, Mascolo seemed headed for a brilliant career as a classical musician. He played in various local bands and studied with some of the finest musicians in the country. He earned a scholarship to attend the University of Miami and became a candidate for a Fulbright Scholarship to study orchestral conducting, but there was a snag: his dream was to submerge himself in the study of opera in Italy and the available position was in Germany.
His first acting gig was in an off-Broadway production of "The Threepenny Opera," followed by an appearance in "A View from the Bridge," where he succeeded Robert Duvall as Eddie Carbone. Over the years, Mascolo appeared in numerous theatrical productions on and off-Broadway, as well as at Lincoln Center. One of Mascolo's greatest memories is his role as Enrico Caruso in the world premiere of the play "Bravo Caruso!", which was an opportunity for him to combine his love of opera with his acting career.
His feature film debut came in "Diary of a Mad Housewife," followed by roles in "Sharky's Machine" and "Heat" with Burt Reynolds, who describes his friend as "one of Hollywood's best kept secrets." Other films include "Jaws II," "Shaft's Big Score," and "Yes Giorgio!," in which he realized a life-long dream as well as the challenge of singing a duet with his friend, renowned opera singer Luciano Pavarotti.
In television, he attracted much attention and a primetime Emmy nomination as Poppa in the NBC mini-series "Poppa and Me." He made television history on the award-winning series "All in the Family," as the first person to ever sit in Archie Bucker's beloved chair, which is now in the Smithsonian Museum. But it was his appearance in the made-for-television mini-series "The Gangster Chronicles" that attracted the attention of Pat Falcon-Smith, then head writer for "Days of our Lives," that took his career in an unexpected new direction. She created the role of Stefano DiMera specifically with him in mind.
In 2001 Stefano DiMera said farewell to Salem and Mascolo left "Days of our Lives." However, "The Bold and the Beautiful" quickly came calling. The character of Massimo Marone was created and the history of that show was shaken when viewers found out that Massimo, not Eric Forrester, was the real father of Ridge. He left "The Bold and the Beautiful" in August 2006.
Aside from his career, Mascolo has given freely of his time and talents to a wide variety of causes. He is very involved in the fund raising efforts of New Horizons, a non-profit organization in Los Angeles that offers guidance, counseling and careers for adults with developmental disabilities.
Mascolo currently resides in the Los Angeles area and also has recently built his "dream house" in Lake Arrowhead, CA. His favorite activities include gardening, playing tennis, reading and listening to music. His parents still live in West Harford, CT., he has a sister in Yucca Valley, CA and his grown son lives nearby in Los Angeles. Mascolo celebrates his birthday on March 13.