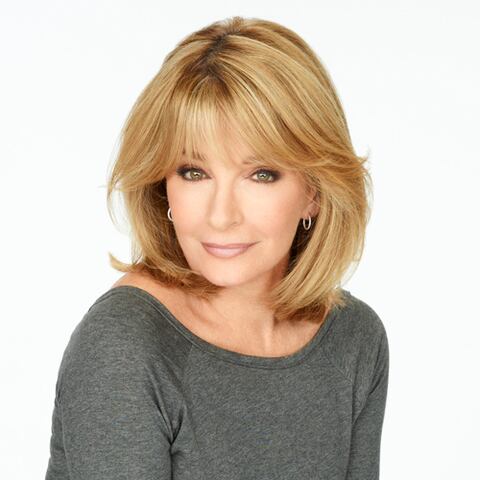 Marlena Evans
Played by
Deidre Hall
Actor Bio
Delighting her fans for more than thirty years as Dr. Marlena Evans on NBC's "Days of our Lives," Deidre Hall has emerged as one of daytime's most beloved actresses, spanning all demographics and regions. She broke new ground for daytime stars when she guest-starred on shows such as "The Tonight Show," "Night of A Hundred Stars," and "20/20" about the birth of her eldest son with the help of a surrogate mother.
As a role model personally and professionally for millions of women, Hall was also the inspiration for Mattel's popular Marlena Evans doll.
Hall created the character Jessie Witherspoon in the family drama "Our House" which co-starred acclaimed actor Wilfred Brimley and won her a Best Actress award from Viewers For Quality Television for two consecutive years. She also has starred in 10 movies-of-the-week including Tom Clancy's "Op Center" and the Vince Bugliosi mini-series, "And The Sea Will Tell." Her A&E "Intimate Portrait" ranks one of the highest rated in their history. She co-wrote and executive produced her autobiographical movie of the week, "Never Say Never," a repeated ratings winner for ABC that helped raise social awareness about the miracle of surrogacy. Her story was so compelling that that it prompted People Magazine to put her on their cover twice, adding to more than 80 magazine covers including Mc Calls, Family Circle, Redbook, The Hollywood Reporter and a record four times on the cover of TV Guide.
Known for her elegance onscreen and off, Hall has been included on the best-dressed lists for years. She has hosted for the Family Channel, "The Tournament of Roses Parade" and the Emmy Awards. Though Hall is beloved for her work in daytime TV, she delighted her fans when she performed a dangerous elephant act with Circus Vargas, trained a mischievous seal for "Circus With The Stars," cavorted with killer whales in "Live From Sea World," and even performed standup comedy for "A Night At The Improv."
Hall is a confident, articulate, and inspiring public speaker on the subjects of children, women and health issues, and became the spokeswoman for the Alzheimer's Foundation of America after her father succumbed to the disease. She has been nominated for three Emmys and received two People's Choice Awards as well as being honored by the American Women in Radio and Television Association. Her charitable involvement and contributions include the Revlon Breast Cancer Foundation, P.A.T.H. (People Assisting The Homeless) and AidsWalk L.A. She also created a "Days of our Lives" calendar and cookbook donating 100% of the proceeds to St. Jude's Research Hospital for Children. She is especially proud to share her passion for service with her son David, who traveled with her to Brazil as an Ambassador for Operation Smile. They were also an outspoken team in Washington where they hosted press conferences and lobbied members of Congress to support the renewal of the Child Nutrition Act.
In her latest role, Hall has become an author and publisher, with Bowman Hall Publishing's first title, "Deidre Hall's Kitchen Closeup," released to rave reviews in July 2010. It is a fun and sassy lifestyle book appropriate for every demographic.
Hall is the devoted mother of two teenage boys, and resides in Los Angeles, California, with her sons.