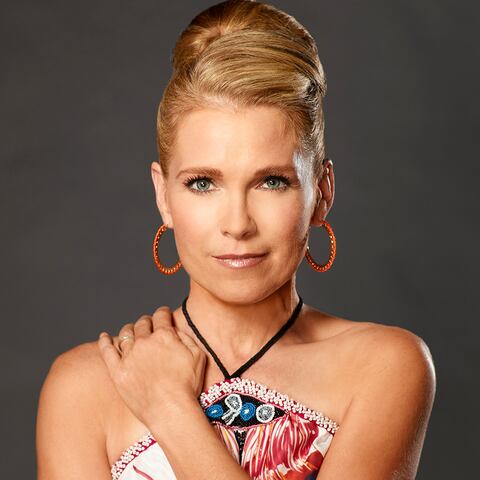 Jennifer Horton
Played by
Melissa Reeves
Actor Bio
Melissa Reeves, born Melissa Brennan on March 14, 1967, is best known for her role as Jennifer Horton Deveraux on NBC's long running daytime drama "Days of our Lives."
Reeves joined the cast of "Days of our Lives" in 1985 at just 18 years of age. She was introduced as Jennifer Horton, consummate good girl and granddaughter to the television series' most prominent family matriarch. The audience quickly fell in love with her charm and humor, and anxiously awaited each episode that featured Jennifer and her love interest, Jack Deveraux.
Reeves and her character Jennifer grew up in America's living rooms. They watched Reeves change from teenager to daytime drama star. She has been recognized for her work with multiple Soap Opera Digest Awards and an Emmy Nomination, earning her a place among television's most beloved heroines.
Soap opera and daytime drama were not always her ambition. Reeves was training with Phil Black in New York to be a dancer, commuting from her hometown in Eatontown, New Jersey to Manhattan every day in pursuit of her dream. She was also studying theater at the prestigious Lee Strasberg Institute. An agent's telephone call and an audition in Los Angeles landed her a role as Jade Perkins on NBC's daytime drama, "Santa Barbara." Reeves' time in Santa Barbara was short-lived, only lasting a year, but she must have made an impression at the network, because a month after having her contract terminated, she was offered the plum role of Jennifer Horton at "Days of our Lives."
Though young, Reeves did not come into her daytime drama days unseasoned. Along with her theater training she had appeared with Sarah Jessica Parker in an HBO movie "Somewhere, Tomorrow " (1983), and in an episode of the television series "Highway to Heaven" with Michael Landon in 1985.
Perhaps the most romantic drama Reeves ever acted in at "Days of our Lives" was a real-life drama played offscreen on the lot at NBC. Reeves first met her future husband Scott Reeves on the set in 1988, when he was introduced to the viewing audience as Jake Hogansen. Though they would not begin dating until shortly before Scott was released from "Days," their romance heated up quickly, and less than a year later the two were married in Los Angeles in 1990.
Reeves and her husband Scott have two children, Emily (born 1992) and Larry (born 1997). In 1999, the family moved to Canada temporarily to shoot an ABC TV movie-of-the-week entitled "Half a Dozen Babies," a heartfelt portrayal of the first successful delivery of sextuplets and the struggles of coping with six babies at once. It was a dream come true for Scott and Melissa to work together, playing real-life married couple Keith and Becky Dilley.
Reeves would say that her greatest accomplishment is her family and the close-knit unit the four of them have worked to become. Throughout her career Reeves has put family first, which translated into several extended breaks from "Days" to care for her young family.
In 2006, the Reeves family moved to Nashville, Tennessee, where Scott developed the top 10 country music duo "Blue County" with good friend Aaron Benward. The two traveled the country playing to fans across America, including a concert on the campaign trail for President George W Bush. Reeves and her children traveled as often as they could with Scott, and when not traveling, cared for their five-acre farm back home in Tennessee.
After five years on the road, Scott put down the guitar and signed a contract with ABC's "General Hospital." The kids began homeschooling so that the family could stick together and use Tennessee as a base and Los Angeles as a satellite.
In February 2010, family matriarch at "Days of Our Lives" and real life friend Frances Reid (Alice Horton) died at the age of 95. Her death brought a number of "Days" family members back to the set to memorialize, on screen, and off, the life of a most beloved character and friend. Reeves was initially hired to come back to NBC for a brief time to film memorial scenes with the rest of her onscreen family.
In the summer of 2010, Reeves again reclaimed her mantel as the beloved heroine Jennifer Horton Deveraux, and to the great pleasure of millions of fans, rejoined the cast of "Days of our Lives."
It's hard to tell what's in store for Reeves and her family. Emily began college this fall and has been recording music and working on an album with her father. Larry will be entering high school shortly and loves homeschooling with dad and mom. Along with playing Jennifer Horton, Reeves has begun a second career on the public speaking circuit.