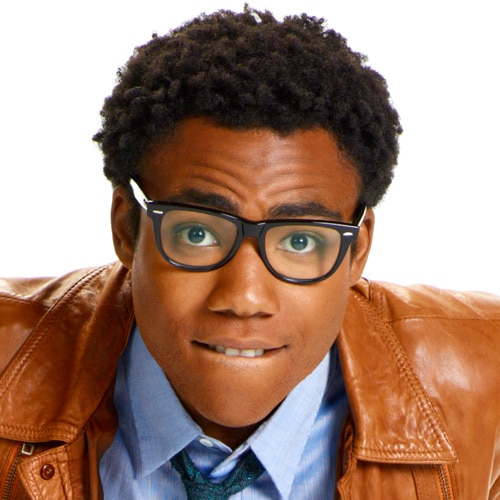 TROY BARNES
Played By Donald Glover
Actor Bio
Donald Glover stars as Troy, a former high school football star trying to find his way, in the NBC hit comedy series "Community."


The consummate example of the Hollywood triple-threat, the 26 year-old actor, writer and musician is quickly positioning himself as one of Hollywood's most promising talents. Glover was hired as a staff writer on the hit show "30 Rock" while still a resident assistant at New York University. During his time at "30 Rock," the show won two Emmy Awards for Outstanding Comedy Series, as well as a Writer's Guild Award for Best Comedy.


Glover was born in California on Edwards Air Force Base and moved to Atlanta when he was 4. While there, he studied drama and the process of writing short plays, which he continued to study at New York University's Dramatic Writing program at Tisch. While at NYU, Glover studied improvisation and comedy writing with the Upright Citizen's Brigade Theatre and had the honor of improvising with performers such as Amy Poehler and Horatio Sanz. He also performed on "Late Night with Conan O'Brien" multiple times.
Glover is also one of the founding members of the Internet sketch comedy sensation "DERRICK Comedy." The group's YouTube channel has garnered over five million views. The group's first feature film, "Mystery Team," which Glover co-wrote, produced, scored and starred in, was released in Los Angeles in March 2010 and on DVD in May 2010.


Glover continues to tour and perform stand-up comedy. His first "Comedy Central Stand-Up Special" aired in March 2010. In July 2010, Glover received the first-ever Rising Comedy Star of the Year Award at the 2010 Just For Laughs Comedy Festival in Montreal.
In addition to acting, Glover raps under the moniker "Childish Gambino." Most recently he released two mix tapes, "I Am Just a Rapper" and "I Am Just a Rapper 2," and his most recent album, entitled "Culdesac," was released in July 2010.


Glover currently resides in Los Angeles.