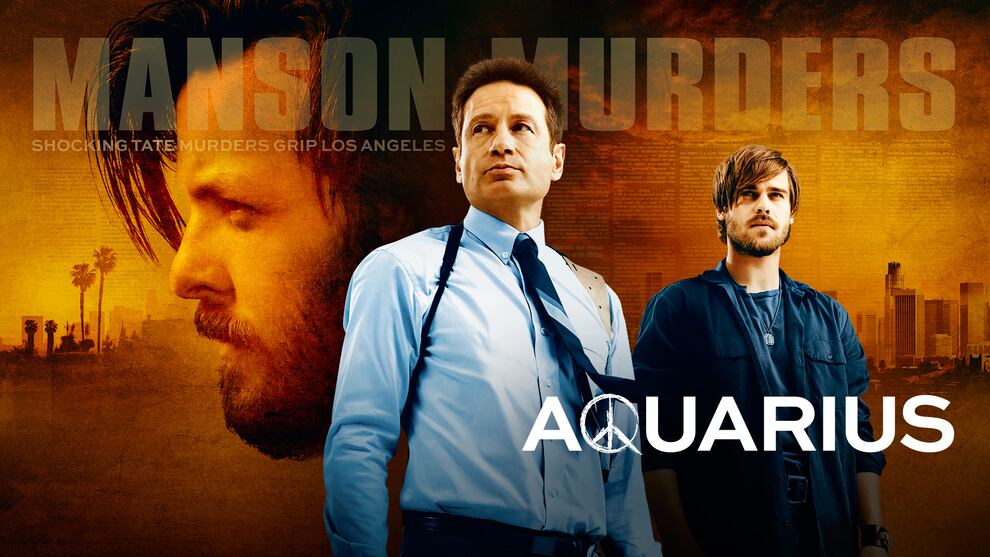 About the Show
Drama, Crime and Mystery
About the Show
America in the 1960s was a land of tumult and transformation.
Across the country, institutions were rocked by protests both violent and peaceful, assassinations became an all-too common occurrence and each day brought a new headline that spoke to the painful process that the country was going through: revolution. No city felt this pain more than Los Angeles.

Los Angeles Police Department Detective Sam Hodiak (David Duchovny, "Californication," "The X-Files") served his country in the Pacific Ocean theater during World War II, and now protects his city in the late '60s. When an old flame tells him that her daughter, Emma Karn (Emma Dumont, "Salvation," "Bunheads"), has gone missing, he jumps to action. His search leads him to find Emma living with a group of hippies led by a dirty, slight but violent figure named Charles Manson (Gethin Anthony, "Game of Thrones"). As he digs deeper to try and pull her out, Hodiak's suit-and-tie worldview is attacked by the same peace-and-love mantra that is challenging institutions across America.

Hodiak enlists the help of undercover Vice Officer Brian Shafe (Grey Damon, "True Blood," "Friday Night Lights"). A Vietnam veteran, Shafe has seen war in a much different light than Hodiak. Even though Shafe is a rookie, he has things to teach Hodiak - such as the brand-new Miranda rights - that are indicative of an emerging style of policing that doesn't turn a blind eye to abuses of power.

As Hodiak and Shafe become further entwined with Manson, and as the country slides deeper into its metamorphosis, the world Hodiak knows begins to disappear before his eyes. This same shifting landscape emboldens Manson to thrust his perverted philosophies upon the world. When the doors of the music industry are closed to him, however, Manson seeks a different way to broadcast his apocalyptic message, which will end with one of the most infamous homicides in American history - the Tate-LaBianca murders.
The two men are on a crash course that will ultimately lead to the gruesome, bloody end of the hippie era and leave America shaken, and once again, changed.
Ringing with the unparalleled music of the era, "Aquarius" is a sprawling work of historical fiction with nuanced characters whose actions in a time of national transformation enlighten how we became who we are today.
Writer John McNamara ("Trumbo," "The Magicians") serves as executive producer with Marty Adelstein ("Prison Break"), Becky Clements ("Last Man Standing"), David Duchovny and Melanie Greene. "Aquarius" is a production of Tomorrow Studios.
CREDITS
Starring
David Duchovny, Grey Damon, Gethin Anthony, Emma Dumont, Claire Holt, Ambyr Childers, Chance Kelly, Madisen Beaty, Cameron Deane Stewart with Michaela McManus and Brian F. O'Byrne
Creator/Executive Producer
John McNamara
Executive Producer/Star
David Duchovny
Executive Producers/Writers
Alexandra Cunningham, Sera Gamble, Rafael Yglesias
Executive Producer/Director
Jonas Pate
Executive Producers
Marty Adelstein, Becky Clements, Melanie Greene
Co-Executive Producer
Nan Bernstein Freed
Producers
Timothy A. Good, Desiree J. Cadena
Co-Producers
David Reed, Laurie Lieser
Pilot Written By
John McNamara
Director (Pilot)
Jonas Pate
Director of Photography
Attila Szalay
Editors
Timothy A. Good, Jennifer Van Goethem, Rich Fox
Casting Directors
Laura Schiff, Carrie Audino, Kendra Shay Clark
Production Designer
Carlos Barbosa
Music Supervisor
Ann Kline
Music Composer
W.G. Snuffy Walden
Origination
Los Angeles   
Series Produced By
Tomorrow Studios