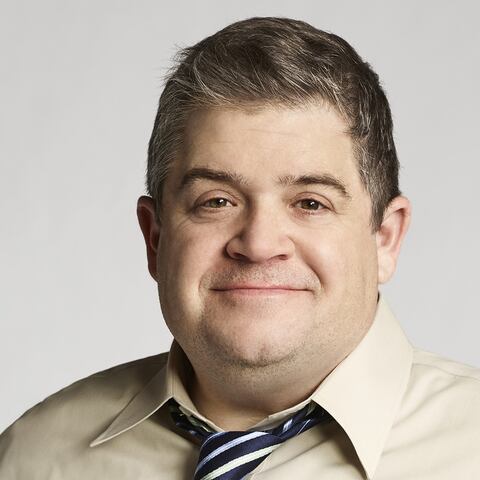 Principal Durbin
Played by
Patton Oswalt
Actor Bio
Patton Oswalt portrays Principal Durbin on the NBC comedy series "A.P. Bio."
He also stars on SYFY's "Happy!" in the title role of Happy the Horse - a tiny, relentlessly positive, imaginary blue winged horse with cherub-like wings.
A comedian, actor and writer, Oswalt continues to find success in all areas of entertainment. From his Grammy Award-nominated comedy specials to his film roles and guest appearances on his favorite TV shows (including "Parks and Recreation," for which he received a Critics' Choice Television Award), Oswalt continues to choose work that inspires him.
Capping off his stand-up tour in Chicago, Oswalt taped the Netflix special "Patton Oswalt: Annihilation," which premiered in October 2017. In 2016, he won an Emmy Award for Outstanding Writing for a Variety Special for his sixth comedy special, "Talking for Clapping" (Netflix), and also won a Grammy for his comedy album of the same name.  
Oswalt can be seen on the Netflix revival of "Mystery Science Theater 3000" and was on the big screen in the film adaptation of Dave Eggers' novel "The Circle," alongside Tom Hanks and Emma Watson. He was also on the Netflix series "Lady Dynamite," starring fellow comedian Maria Bamford, and on HBO's "Veep."  
Oswalt was nominated for a Critics' Choice Award for his performance in Jason Reitman's film "Young Adult," co-starring opposite Charlize Theron. In 2009, he also received critical acclaim for his performance in Robert Siegel's "Big Fan," which was nominated for an Independent Spirit Award. Oswalt earned a Gotham Award nomination for his performance.
Oswalt has appeared in many films, including "The Secret Life of Walter Mitty," Steven Soderbergh's "The Informant!," alongside Seth Rogen in "Observe and Report," in Paul Thomas Anderson's "Magnolia," "Zoolander," "Starsky & Hutch" and "Reno 911!: Miami."
Oswalt also provided the voice for Remy the Rat in Pixar's Oscar-winning "Ratatouille," and has voiced characters on TV shows such as "Archer," "BoJack Horseman," "The Simpsons," "Bob's Burgers," "Aqua Teen Hunger Force" and "WordGirl." He is also the narrator on ABC's hit comedy "The Goldbergs."
Oswalt had a starring role on Adult Swim's "The Heart, She Holler," was a series regular on Showtime's "United States of Tara," recurred on the Syfy series "Caprica," and has had guest roles on "Veep," "Agents of S.H.I.E.L.D.," "Parks and Recreation," "Justified," "Two and a Half Men," "Portlandia," "Bored to Death," "Flight of the Conchords," "The Sarah Silverman Program," "Tim and Eric Awesome Show, Great Job" and "Seinfeld." He is also well known for playing Spence on "The King of Queens" for nine seasons.
As a comedian, Oswalt has shot six TV specials and released five critically acclaimed albums, including the Grammy-nominated "Tragedy Plus Comedy Equals Time" that debuted in 2014. "Finest Hour" also received a Grammy nomination for Best Comedy Album, as well as a Showtime one-hour special of the same name. In 2009, Oswalt received his first Grammy nomination for his album "My Weakness Is Strong."
Oswalt starred in "The Comedians of Comedy," which was shot as an independent feature film, a TV series and a long-running tour. He tours regularly and extensively, headlining in the United States, Canada and United Kingdom. Oswalt also has a regular, bi-monthly show at the new Largo at the Coronet in Los Angeles.
Both of Oswalt's published books, "Zombie Spaceship Wasteland" (2011) and "Silver Screen Fiend" (2015), are New York Times best-sellers.