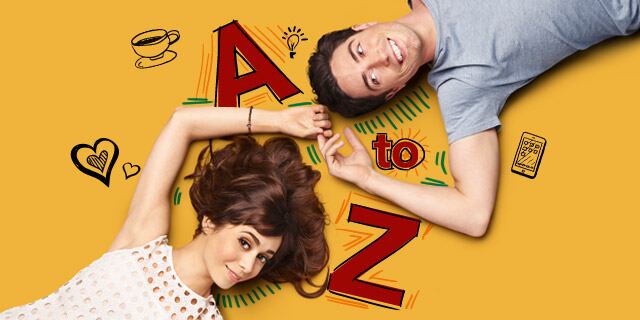 About the Show
Comedy
About the Show
"A to Z" tells the story of Andrew (Ben Feldman, "Mad Men," "The Mindy Project") and Zelda (Cristin Milioti, "The Wolf of Wall Street," "How I Met Your Mother") - a pair that almost wasn't - and all that happened from the day they met.

Andrew Lofland, while a guy's guy, has always been a secret romantic... not above crooning to Celine Dion while driving to work, with dreams of finding "the one." He imagines her to be just like that shimmering beauty he spotted that night in that silver dress at that concert two years ago. Zelda Vasco is a no-nonsense lawyer who has strong feelings about being her own person and prefers the control of online dating. However, when a computer glitch sends her a total mismatch, she's asked to come in for an interview at Wallflower Online Dating, the agency where Andrew works.

Andrew and Zelda meet for the first time and despite their differences, sparks fly. She thinks it's chance. He thinks it's fate. After all, he's convinced she's the shimmering girl in the silver dress. Is it true love forever or just a detour in destiny?

While at work, Andrew must navigate around Lydia, aka "Big Bird" (Christina Kirk, "Girls," "Taking Woodstock"), his boss and general manager at Wallflower, who has a way of making everyone in the office uncomfortable. Hardly the romantic, she believes her job is not helping people find true love, but rather keeping them paying their monthly membership fee. Stu (Henry Zebrowski, "The Wolf of Wall Street," "White Irish Drinkers") is Andrew's loyal friend, colleague and roommate. Intense and eccentric, Stu has no qualms offering up his misplaced insights and doling out unsolicited advice. Lora (Hong Chau, "Treme") is also a colleague at Wallflower working as a programmer, and her work skills have been known to come in quite handy when Andrew needs a favor.

Meanwhile, Stephie (Lenora Crichlow, "Fast Girls," "Being Human") is Zelda's best friend, roommate and colleague at the law firm where Zelda works. A fool for love, she has a wedding Pinterest page, even though she has never been engaged.

Featured as the narrator is Katey Sagal ("Sons of Anarchy").

Andrew and Zelda will date for eight months, three weeks, five days and one hour. This program is a comprehensive account of their relationship - from "A to Z."

Ben Queen ("Drive"), Rashida Jones ("Parks and Recreation"), Will McCormack ("Celeste & Jesse Forever"), Bill Callahan ("Psych") and Michael Patrick Jann ("Reno 911!") serve as executive producers. Queen wrote the pilot, which was directed by Jann. "A to Z" is a production of Warner Bros. Television and Le Train Train Productions.